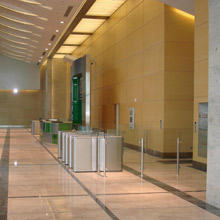 Fastlane Glassgate speedgates from Integrated Design Ltd have been installed as part of the security solution covering the US$ 1.5 billion Bahrain Financial Harbour (BFH). A first of its kind development in the region, BFH is a highly focused, committed and advanced financial environment spread over 380,000 square metres of prime seafront property in the centre of Manama, Kingdom of Bahrain.
Limiting access to only authorised staff and visitors at these sites was a key consideration when specifying a solution. With such a prestigious development that includes BFH's Harbour Towers - Bahrain's tallest towers, the solution also had to parallel the design of the ultra-modern surroundings. Fastlane Glassgate speed gates were recommended as the entrance control system, and a total of 20 lanes of Glassgate were installed and linked with the PACOM access control system provided by their partners Bell ID ( M.E) Ltd, Bahrain.
Two banks of 4 lanes were installed in both the east and west towers to control access for clients such as Bahrain Stock Exchange, Dexia Private Bank, Investate, Azadea Group Holdings, ARAMEX and Capital Knowledge, with the remaining 4 lanes securing The BIIC Building.
Fastlane Glass gates have a glass barrier that operates in a friendly 'door-like' motion that intelligently controls pedestrian traffic flow while maximising throughput, and a state-of-the-art IR detection matrix offers excellent protection against unauthorised entry and provides tailgate detection. As an added feature, 1200 mm high glass barriers were specified to deter vaulting over the pedestals. Safety beams monitor the area near the barrier for increased safety. If an object is detected in the path of the barriers, they slow to a crawl until the obstruction is removed.
The Fastlane Glassgate can integrate with a fire alarm system so that in an emergency the barriers automatically open in the exit direction to allow for free emergency egress. In a power failure, the barriers can be gently pushed out of the way.
"Being given the task of providing a secure security solution for such a modern environment was a challenge. Fastlane Glassgate speedgates were the only logical choice, with their aesthetic enclosures, narrow footprint and glass barriers creating the secure solution while maintaining an easy to use welcoming atmosphere," said Sreeni Kalliyatt, Director-Operations, from Bell ID, Bahrain, who was managing the installation requirements for a number of projects in the Harbour.
Download PDF version
Download PDF version