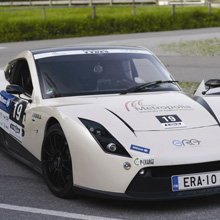 Cardea's passive RFID technology demanded by far the lowest energy
Electric RaceAbout (E-RA), an electric sportscar jointly developed by Metropolia University of Applied Sciences, Lahti University of Applied Sciences and Lappeenranta University of Technology, has also driven some surprising recent accolades for Idesco's Cardea Reader. E-RA, a full-featured, albeit electric, sportscar boasting emission-free low energy consumption, garnered second place in the International 2010 Progressive Automotive X PRIZE competition hosted in the United States. In 2011 the design team extended their success, first at the Challenge Bibendum event in Berlin organised by Michelin to focus on sustainable road mobility, then by setting a new road-legal electric vehicle lap record at the Nürnburgring Nordschleife also in Germany.
The design team chose Idesco's Cardea reader for E-RA's immobiliser system because, while simultaneously user-friendly and deep-secure, Cardea's passive RFID technology also presented by far the lowest energy requirements. Connected as a standalone reader to the vehicle's intelligent 12V electric current feed and control system (IWS), Cardea provides a totally independent lock control system. With transponder data written to its internal memory, the Cardea Reader, embedded into the vehicles' instrument panel, activates when an authorised transponder is inserted into its dedicated slot. Transponder acceptance activates the car for driving. The team then decided to configure the reader's two FET outputs to determine whether full or half power driving was allowed according to which transponder was inserted.
The project leader, Mr. Sami Ruotsalainen states that Idesco's Cardea reader has proven to be the perfect choice for securing his team's cutting technology vehicle. "Our experience with the reader has been very positive", says Ruotsalainen. "Implementing the system was very easy and the reader has proven to be effectively bombproof in our car."
So far, the achievements in the RaceAbout project, developing a simultaneously high performance and environmentally-friendly vehicle, are very promising. Idesco is proud to be a part of such an innovative and timely project and end-result, and wishes continued success and a brilliant future for the RaceAbout vehicle and their cutting-edge designer team!
Idesco provides secure and scalable identification solutions crafted to meet the unique demands of your business. Idesco not only offer solutions in access control, automated vehicle identification and other industrial and logistics applications. We also excel in customising scalable and versatile solutions leveraging a full spectrum of RFID technology benefits you can integrate into deployments of your own secure, cost-effective and user-friendly identification systems. We create identification solutions that can make your business run more securely, efficiently - profitably.
Idesco Cardea Readers are multifunctional wireless readers with standalone capability. Wireless technology enables the use of Idesco's identification and access control systems in places where they previously weren't feasible. Wireless technology can also be used to expand existing RFID solutions with cabling. In addition to the cost efficient installation, wireless RFID solutions are also user-friendly and safe. The signals between the readers and the access control systems are secured and encrypted.
Download PDF version