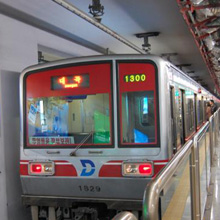 IDTECK provides advanced security solution for Daegu metropolitan transit project
IDTECK
, the global leader in RFID & Biometrics access control, has been appointed to provide advanced security solution for metropolitan transit project.
The on-going metropolitan transit project, which takes place in Daegu, one of the largest cities in South Korea, invested over one million dollars to induce latest security solution in the train stations.
IDTECK's access control integrated with the DVR system allows the administrators to monitor all the access control events in real time, which is expected to increase their ability to deal with dangerous situations as well as more effective management of all the stations. IDTECK's security solution also permits real time central monitoring of other facilities around the transit stations, which is will strengthen the security measures.
"IDTECK's access control solution will provide more effective management method of the metropolitan stations as well as higher assurance of passenger safety", commented Gi-Su Jang, IDTECK's local manager and person in charge of the Daegu Metropolitan project.
IDTECK offers total security solution that is suitable for large commercial areas, also known for providing one of a kind security solution to meet the needs and requirements of various projects. With more than twenty years of know-how in the security market, IDTECK as well as its products has been recognized as one of the leading security brands in the global market. IDTECK product also has been selected as 'The World Best Product', an award category presented by Korean government rewarding the company's technology as well as market sales. All of IDTECK products are certified by UL, CE, FCC, MIC, and RoHS to satisfy the standards for international exports.
Download PDF version