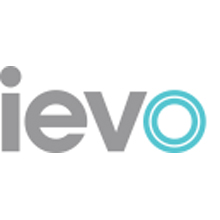 ievo has launched five new marketing documents for UK and international security installers

Currently at the forefront of biometric technology and innovation, ievo have launched their new brand complete with a logo refresh, redesigned website, additional marketing support materials and Smartphone applications for ievo installers and end users.
Since 2009 ievo have been manufacturing superior biometric access control readers alongside providing unparalleled technical, sales and marketing support. Having been established as a reliable and trustworthy biometric manufacturer within the UK market, within the last 12 months ievo attracted global attention due to the same satisfied custom currently felt in the UK. Due to this demand from export markets, ievo decided to re-strategise their brand whilst maintaining the credible, confident and innovative mantra reflected in the products and support they provide.
As part of this, there are currently five new marketing documents which have been launched for UK and international security installers to distribute to their existing and current client list. They range from ievo integration possibilities to why choose ievo over other biometric options. Marketing support has always been available to ievo installers free of charge which helps them promote their business and win projects. This builds upon the existing marketing support material which is available to ievo installers, including, product datasheets, case studies and test videos which have been used successfully in the past to help secure large security projects.
The new ievo 3D application is available for a desktop computer and also on Smartphone via Google App Store and Apple
This also coincides with the new ievo 3D application which is available for a desktop computer and also on Smartphone via Google App Store and Apple. There are two apps now available; one for ievo reader and another for finger placement. The first aims to encourage best practice of installation for installers choosing where to place the readers and the second helps end users understand the best way to present a fingerprint at point of registration and use when gaining entry.
ievo managing director Shaun Oakes commented, "This is a very exciting time for ievo with lots going on both in house and with installations nationally and globally. Not only have our products been completely embedded into a record number of integrators, with export markets expanding we jumped on the opportunity to really refresh our brand. With the new logo, marketing/sales tools and website we can really put ourselves forward as an established and innovative company who has grown exponentially within the last five years."
"In fact, our new brand statement 'security solutions as individual as you are' positions us as valuing those using the ievo system as they can create their own bespoke, innovative access control solution and we plan on building on this in the future to remain at the forefront of biometric deployment and growth."
Download PDF version