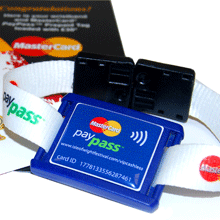 Isle of Wight festival got the security cover for its guests frm ID & C Ltd.
Security wristband specialists, ID&C helped provide Isle of Wight Festival VIP guests with the UK's first ever prepaid contactless payment wristband. The project, led by MasterCard saw festival goers in the VIP arena put the PayPass prepaid wristbands to the test, unanimously rating them as a must-have for future live events.

Research conducted by MasterCard amongst those using the ID&C-supplied wristbands found they were their preferred payment method at the festival, with an astounding 100% of users stating that they'd use the wristbands again at other festivals , concerts and sporting events. Pre-loaded with £30, the wristbands could be used to purchase food and drink with a simple tap of the wrist . ''It's the simplicity and speed which make contactless wristbands so attractive to festival organisers and punters alike."

''The opportunity to work on this groundbreaking project at one of the UK's most established festivals has been fantastic and the results have clearly revealed how contactless wristbands can enhance the user experience.'' says Steve Daly, ID&C's Operations Director.

John Giddings, Isle of Wight festival promoter, said: "Festivals are all about a great shared experience the music, bands, food and drink all add to the atmosphere. New innovations such as this really add to the experience. I'm proud to have pioneered the wristbands at the Isle of Wight Festival and hope to see them developed further for future events.''

ID&C's contactless wristband projects have grown rapidly in 2011 with the mammoth Coachella festival already under their belt. The company have also secured two further deployments of RFID access control wristbands in the U.S. working with Chicago's Lollapalooza and Austin City Limits in Texas later this year.
Download PDF version
Download PDF version