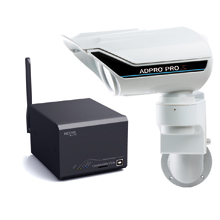 Xtralis will unveil the new HeiTel Cam4mobile VG family at
Security Essen
Xtralis, the world's leading provider of very early & reliable detection and remote visual verification safety and security solutions, will exhibit new capabilities for its HeiTel's VideoGateway (VG) series including sophisticated, remotely-based software and CMS applications solutions for the web, smart phone, tablet, PC, and workstations at 2014 Security Essen tradeshow, held 23-26 September in Essen, Germany. The Xtralis booth will be located in Hall 2.0 at stand 309. All attendees are invited to stop by the Xtralis stand for live product demonstrations and presentations.
Xtralis will unveil the new HeiTel Cam4mobile VG family, a 4-channel version of its popular compact digital security design for mobile applications. The Cam4Mobile delivers live transmission via embedded 3G/LTE connectivity with optional GPS tracking and geo-fencing in combination with real-time recording of up to 4/10 HD video streams. The HeiTel Cam4mobile VG is compatible with all major camera brands and includes camera-specific features such as a 360° view. It is fully integrated into the Xtralis Event Management System (EMS) platform with extended feature set such as HThealthcheck and HTdownload, tailor-made for any Security Remote Monitoring application, supporting an unlimited number of sites and ready to enable up to 50 security officers to instantly manage any kind of security threat. The HeiTel VG family for mobile applications is extremely popular with police, armoured vehicle services such as cash & transit, trucking, and any light rail application.
The Cam4Mobile delivers
live transmission via
embedded 3G/LTE
connectivity
Also on exhibit at Security Essen will be new capabilities available across the entire HeiTel VG family, not only for mobile but also stationary applications. Features demonstrated will be native integration with Xtralis' award-winning ADPRO PRO-E PIR detectors, enhanced pre-alarm image viewing features, and pre-recorded audio tracks for automatic audio intervention in the event of a security threat. The new ADPRO PRO-E PIR detectors are specifically designed to make perimeter protection more cost-effective and reliable.
At Security Essen Xtralis will introduce SmokeTrace, a video content analytic (VCA) currently available on the Xtralis ADPRO FastTrace 2/2E. SmokeTrace provides real-time, onsite visual verification of a fire threat; so that false alarms are virtually eliminated and situational awareness is delivered to first responders for a more efficient response. The next-generation HeiTel VG family will support SmokeTrace, in addition to IntrusionTrace & LoiterTrace. Xtralis will also exhibit the award-winning ADPRO FastTrace 2E, and demonstrate how Central Monitoring Stations (CMS) can quickly and efficiently offer additional security applications and services at the touch of a button.
Download PDF version
Download PDF version