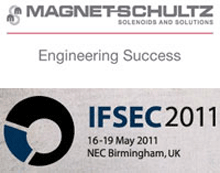 Magnet Schultz Ltd, will unveil The Electric Gatelock, the Load Release and the ATEX-rated Shotbolt at IFSEC 2011
Electromagnet assembly development specialist, Magnet Schultz Ltd, is to unveil a series of exciting new products at IFSEC 2011 from the 16th to the 19th May. The products on show will be The Electric Gatelock, the Load Release and the ATEX-rated Shotbolt. Experts from the Magnet Schultz team will be available on Stand 3/D5 in Hall 3A, to show attendees, the distinct advantages their products can offer for organisations operating in the security market.

As part of the global Magnet Schultz group, Woking-based Magnet Schultz Ltd specialises in the design and development of custom solenoid application solutions. The company's range of unique products will be on display at the IFSEC exhibition held at Birmingham's NEC complex.

Electric Gatelock
The new Electric Gate Lock mechanism has a very wide alignment capability that is specifically designed to accommodate gate misalignment. The device has been expressly designed to reduce the need for service visits and reduce overheads for gate suppliers and installers. It is perfect for both commercial and domestic installations whether being operated manually or automatically. The solenoid-driven locking element operates within a 30mm 'wide mouth', meaning that the gate-mounted locked element can enter the channel anywhere within that 30mm window and still be securely locked. This arrangement successfully handles misalignment of the locked element up to 15mm either side of the centre-line.

Load Release mechanism
The Load Release provides the link between a fire alarm and the failsafe technology in the mechanism that helps to contain a fire. One signal from an alarm controller and the device will release a load up to 50kg and means that you no longer have to rely on fusible links. The uncertainty of whether or not the link will perform has been taken out of the equation and replaced with technology that allows you to undergo regular system testing.

ATEX-rated Shotbolt
IP54 certified, the ATEX Shotbolts are the only shotbolt locking devices designed and tested to operate in explosive and hazardous environments. The new GSCE Range shotbolts are IP54 certified and mounted by means of a threaded nose section, making them the ideal choice for industrial oil and gas platforms and installations. The units feature a simple terminal box to accommodate a user's own cable, allowing easy integration to any application while complying with safety and legal requirements.

All of these products will be available for visitors to see at IFSEC 2011 on stand 3/D5 in Hall 3A from the 16th to the 19th May.
Download PDF version