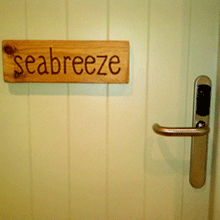 Smartair offline access control system has been installed at the Glendorgal Hotel in Cornwall
Mul-T-Lock's
innovative Smartair offline access control system has been installed at the luxury Glendorgal Hotel in Cornwall, by local
Coast 2 Coast Locksmiths
, to upgrade its security without compromising on aesthetics.
Smartair provides a secure all-in-one access control solution that reduces the cost and inconvenience associated with wiring a traditional access control system.
After initial programming, cards or fobs can be easily added or removed from a central point as and when required, in this case the hotel reception. Time zones can also be set and an audit trail is available from the handle to make sure personnel access to a guest room is monitored for extra security.
The Glendorgal Hotel was looking to upgrade security throughout its property, including all 29 rooms on site, together with the entrance to the hotel and the gymnasium. The owners asked Coast 2 Coast Locksmiths to recommend a suitable electronic access control solution that would not disrupt the day to day operation of the hotel.
Says Brock, Glendorgal Hotel's Manager:
"To maintain our high quality of accommodation, we were conscious of upgrading our security, but without needing to redecorate the hotel or replace any of the doors on the premises."

"Together with a representative from Mul-T-Lock, we were shown how easy Smartair was to manage, including adding and removing user cards and fobs. It was then installed very quickly, with minimum disruption to the hotel, and we have achieved our goal exactly for the benefit of our residents and staff."

Smartair is ideal for commercial environments and can be programmed with longer opening times for disabled access
Kelvin Troup of Coast 2 Coast Locksmiths added:
"The great advantage of Smartair is, it can be used with virtually any existing lock case, making it an ideal 'bolt on' solution for use on both internal and external doors."

"It suited the needs of the Glendorgal Hotel perfectly as I could install the units onto the sash locks already in place. This meant it was just like fitting a new door handle, so the installation took just two days, with minimum disruption incurred."


Smartair offers a wide range of benefits for locksmiths and their customers and overcomes some of the obstacles traditionally associated with upgrading to access control systems. It is ideal for commercial environments like hotels, where a degree of people management is required. The handles can also be programmed with longer opening times for disabled access.
Ian Thresher, Regional Sales Manager at Mul-T-Lock, concluded:
"Mul-T-Lock introduced Smartair as a bridge between mechanical security and electronic access control. Applications such as the Glendorgal Hotel optimise the need for such a product which is quick to install for the locksmith and easy to manage for the hotel owner."
Smartair is supplied ready to fit in one pack, complete with handles, batteries, a fitting tool and spindle. Additional spindles are also available to suit various door thicknesses and centres of 72mm or 92mm are offered to suit different lock cases, with other sizes available to order. It is now available from stock in stainless steel with a range of other finishes available to order.
Download PDF version
Download PDF version