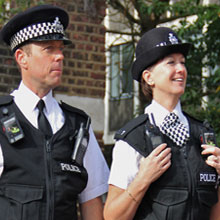 Sussex Police deployed 244 RS3-SX cameras supported by RS-DEMS evidence management software
Seven years after the initial Home Office sponsored pilot of Body Worn Cameras by Devon and Cornwall police, the use of this technology has increased dramatically in the last year. Until recently, police services had only been using cameras in relatively small numbers but are now adopting this technology on a much larger scale and deploying many hundreds of cameras each.
Alasdair Field, CEO of leading Body Worn Evidence solution company Reveal Media says "Several important factors have led to the dramatic increase in size of deployments: having used cameras for a number of years and after the publication of various studies, police forces are now confident that this technology delivers huge benefits in crime reduction, complaints against officers, guilty pleas and the subsequent cost savings. In addition, the technology itself has matured to meet the operational and business needs. Now that senior police officers understand the benefits and efficiencies to be gained, roll-outs have the support needed to really make an impact. Our third generation RS body worn evidence system incorporating the RS3-SX High Definition camera and the RS-DEMS evidence management software is hugely successful and builds upon our extensive experience in this field dating back to the very beginning of Body Worn Camera use in 2006."
"In the past, 30 to 50 Body Worn Cameras was considered a large program but now we are servicing customers who are rolling out five or ten times as many in one go. Sussex Police has recently deployed 244 of Reveal Media's RS3-SX cameras in over twenty stations supported by our RS-DEMS software.
Sussex Police's Body Worn Video programme lead, Chief Inspector Warren Franklin comments; "
Sussex Police has increased and developed the use of Body Worn Video, due to the ever changing needs of front line policing and the availability, effectiveness and robustness of technology, which supports our aim of improving safety for our officers and members of the public. The deployment of Body Worn video also increases our key aims for reducing crime and enhancing our evidence capturing capabilities. It's an innovative and modern approach and increases the chances of delivering justice."
''Sussex Police has increased
and developed the use of Body
Worn Video due to the ever
changing needs of front line
policing''
Reveal Media's Field continues; "Leicestershire constabulary has purchased nearly 200 RS3-SXs and we have orders for over 700 cameras from two forces sharing a combined infrastructure. Additionally there are a number of other constabularies intending to roll out our cameras in their hundreds soon.
Many forces now have a stated ambition to make cameras available to every frontline officer as well as certain supporting staff. In order to demonstrate how this can be done from a technological standpoint and how effective this is from a police business perspective, Reveal Media is sponsoring a programme to introduce personal issue of 170 cameras to every uniformed officer in a certain region. This operation will be ground breaking in several ways and will provide a platform to be emulated by other Constabularies. We anticipate that the advantages of having cameras as personal issue will result in even more benefits than have already been proven. A twelve-month professional study, backed by a University, will monitor the impact on many factors and the results published.
Body Worn Video has come of age and the UK leads the world in both the equipment as well as the application of this technology. The British police services and suppliers can be proud of the fact that this innovation has led to such a dramatic impact on modern policing."
Download PDF version