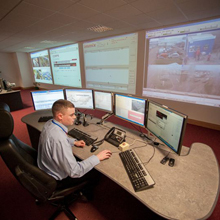 Corps Security saw a massive upsurge in number of healthcare organisations procuring its services
Corps Security, the leading provider of specialist security services, is celebrating another highly successful financial year, which saw it increase its customer contract base by 25 per cent. As well as achieving a number of prestigious new account wins, the company also maintained its exceptional contract retention rates, with 94 per cent of all contracts retained with only building closures accounting for the remaining 6%.
While already operating across a diverse range of vertical sectors, Corps Security saw a massive upsurge in the number of healthcare related organisations procuring its services. The company also strengthened its foothold in the financial, local government, research, utilities, arts and leisure sectors, thanks to its unique ability to offer solutions that combine manned guarding, surveillance technology and remote monitoring. It has also reported high demand from facilities management (FM) organisations requiring specialist services.
Increased levels of business
Thanks to a growing awareness of the advantages of security monitoring, Corps Monitoring has also reported increased levels of business. Utilising state-of-the-art technology, Corps Monitoring provides remote CCTV monitoring, alarm receiving, environmental monitoring and call centre management. It also specialises in lone worker monitoring and Corps Security's innovative CorpsGuard next generation smartphone app, which provides enhanced levels of personal safety for individuals, has recently been the subject of a significant order from a major international airline.
While the economic recovery has been a welcome relief for organisations of all sizes, the ever-present terrorist threat means that they need to be extra vigilant in keeping people, property and assets safe, and not just view security as a commodity purchase. Security providers therefore need to demonstrate the highest levels of service along with excellent value for money. Corps Security believes that its ability to offer its customers robust, effective and personally tailored solutions that meet their specific needs is more in demand than ever.
Key factor of success - investment in employees
Customer feedback suggests one of the key factors in Corps Security's recent success is its investment in its employees. This ensures that it retains the highest caliber personnel who, with the requisite knowledge and skills, can enhance their careers and exemplify the company's 150 year old ethos of 'loyalty, integrity, service'. As well as a Colleague Charter, which is based around the acronym PRIDE – promise, respect and recognition, information, development and envoys – employees also have access to the award winning Securing Success and Securing Excellence programmes, which have been developed in conjunction with subject matter experts from across the business.
"More organisations than ever before are recognising the importance of high quality security provision and are addressing this need in a more considered and professional way," commented Peter Webster, Chief Executive at Corps Security. "This means that our long-established messages are resonating with an increasing number of clients, who want to work with a specialist security services provider that offers the value and service that they demand. It vindicates our approach to all aspects of our operation and we intend to build on the highly encouraging performance of the business over recent years."
Download PDF version
Download PDF version