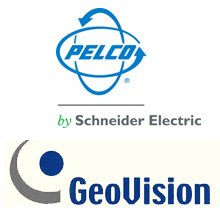 Pelco IP cameras are now supported by GeoVision Multicam Surveillance System
Pelco
IP cameras are now supported by
GeoVision
Multicam Surveillance System, the intelligent video surveillance & management software widely used in public and private sectors. The integrated solution brings Pelco IP110 Series Camclosure and IP3701 Series Color Network Cameras to work with GeoVison Multicam Surveillance System, allowing users to mix analogue cameras and IP cameras in a true hybrid platform for their applications.
Today, everyone is focusing on advantages and benefits of using an IP camera in a pure or hybrid configuration, but few experience the true value of an IP camera. The integrated solution of Pelco and GeoVision brings out the true performance of the high-quality Pelco IP camera, through functions and features that are specifically designed to support IP cameras.
"We enjoy the advantage of using a Pelco IP camera because now the true performance of a high-quality IP camera finally stands out. For example, we are able to see clear details of target objects through features designed specifically for IP camera users, such as Picture-in-Picture (PIP) and Picture-and-Picture (PAP)," Says Zina Liu, Assistant V.P. of Sales at GeoVision.
The integrated solution focuses not only functions and features required in everyday video surveillance, such as recording, fast retrieval, and video file managing and storing, but to provide an overall improvement to IP-based video surveillance and management.
With the integrated solution, Pelco IP cameras are now immediately supported by a software platform of 15 languages including French, German, Spanish, Portuguese, Italian, Danish, Hungarian, Czech, Russian, Polish, Serbian, Chinese (Simplified and Traditional), Japanese, and Hebrew.
"We are pleased with this first step of cooperation with GeoVision, which will lead to the support of our Spectra IP domes as well as Sarix Megapixel cameras by GeoVision's solution," says Stéphane Lantoine, Business Development Manager Integration EMEA at Pelco. "To provide easy-to-integrate, high-performance open products is one of our main goals at Pelco."
Download PDF version
Download PDF version