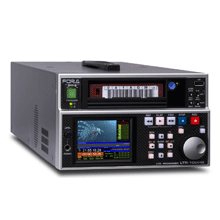 LTR-100HS is a video archiving recorder
FOR-A
, a leading manufacturer of video and audio systems for the broadcast and video production industry, will showcase its new LTO-5 Video Archiving Recorder, the LTR-100HS, and other new products at the upcoming
Government Video Expo 2010
, which runs from November 30 to December 2 at the Walter E. Washington Convention Centre in Washington, D.C. (Booth 116).
Introduced earlier this year, the new recorder supports LTO-5 technology, the latest standard in long-term, high-capacity tape storage, for efficient archiving with reduced space requirements.
"The LTR-100HS plays a major part in our MediaConcierge™ system workflow of content management. It will help any agency with video content move into a file-based storage system architecture,"
said Mr. Hiro Tanoue, President, FOR-A Corporation of America.
"By recording video on tape as files, government facilities can use the new LTR-100HS to build compact, cost-effective, and reliable archives."


Equipped with a high quality MPEG-2 codec, the LTR-100HS features an MXF wrapper/un-wrapper, so MXF files (OP-1a, SMPTE RDD-9) recorded to LTO-5 tape can be used directly by many NLE systems. Within its compact chassis and half rack design, the LTR-100HS includes an LTO-5 drive, 2 TB hard drive, HD/SD-SDI I/O, LCD monitor, and front panel playback controls with a convenient jog/shuttle wheel. LTO-5 tape cartridges (1.5TB) can store approximately 50 hours of programming recorded at HD MPEG-2 Long GOP 50 Mbps (CBR/4:2:2/422P@ML).
Also featured at GV Expo 2010 is the new 1.5 M/E HVS-350HS HD/SD video switcher, the "big brother" to the popular HVS-300HS. With a larger control panel and 3 RU main unit, the HVS-350HS works well for facilities that have limited space but produce challenging programmes, such as sports and other live events. It provides eight inputs and outputs standard, which can be expanded to 24 inputs and 12 outputs. Both switchers include a frame synchronising on every input, which allows various asynchronous HD, SD, analogue, and PC signals to be used during the same production. Other features include a built-in 16-split multiviewer, 2D and 3D DVE transitions, and more than 100 wipe patterns.
The new VFC-7000 "Flash Eye" HD Variable Frame Rate Camera offers high-speed recording in full frame (1280x720) at up to 720 fps, and recording speed can vary from 125 fps to 700 fps (1280x720). Lightweight and easy to carry with its integrated handle, the VFC-7000 houses the camera head, main body, and recording component in one integrated structure, complete with an F lens mount or PL lens mount. With its high-sensitivity CMOS colour sensor, it features an electronic high-speed shutter that can operate as fast as 1/200,000 second for filming fast subjects without blur. It also includes internal memory for nine seconds of recording (full frame).
FOR-A will also demonstrate its new FRC-8000 HD/SD multi-format frame rate converter. The de facto standard for video conversion, it features motion compensation technology, scene cut detection, and support for embedded audio, AES/EBU digital audio, Dolby E AC-3, and Dolby E two-channel encode/decode. The unit delivers excellent image quality and offers a front touch panel display and simultaneous output option.
Download PDF version