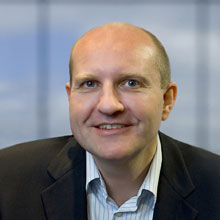 David joins ADT with extensive experience gained across EMEA in the technology space
ADT Fire & Security
today announced the appointment of David Myers as Regional Managing Director (RMD) for the UK south region, working with and reporting directly to Andy Ellis, Managing Director, UK & Ireland.
David joins ADT with extensive experience gained at a high level across EMEA in the technology space. This has provided an excellent backdrop for his new role requiring senior leadership, alongside the delivery of insightful, strategic direction for ADT's southern branches, all with a view to achieving sustainable growth and enhancing customer service operations. David will also be contributing to the development and implementation of specific business strategies, expanding ADT's operations in the UK and Ireland.
"David's strong leadership background and depth of knowledge in the technology arena have been key drivers behind this regional appointment," explains Andy Ellis, Managing Director, UK & Ireland. "His creative approach to management and strategy planning position him well to execute the southern region's range of growth initiatives. Having worked with high-profile technology companies in the past, David is accustomed to delivering high standards for customers, and in turn, David will continue to support the southern region with his excellent work-ethic and leadership skills."
"I am delighted for this opportunity to lead ADT's southern teams to further success across the region, and work in conjunction with the Senior Leadership Team in order to expand ADT's business across the UK & Ireland," comments newly appointed David Myers. "I am honoured to be working with such a reputable organisation which harnesses excellent determination amongst its staff to continually deliver the best in services and solutions to its customers."
Download PDF version