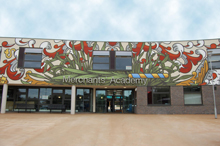 Merchant's Academy has chosen an electronic security solution from SALTO Systems
Merchant's Academy, the newest of the Government's 47 privately sponsored academies, has chosen an electronic security solution from
SALTO Systems
to provide smart access control throughout the school.
The £23 million Bristol based academy, which opened in September 2008, has been built on the site of the existing Withywood Community School. In common with other schools in the academy programme, which form part of a blueprint for a new educational system in the most radical reform of state schooling for decades, the school has opted out of local educational authority control, deciding on its own curriculum and drawing funding from central government and private individuals or companies.
In Merchant's case the school will be run by an independent trust co-sponsored by the Society of Merchant Venturers, a society dating back hundreds of years with a history of successful involvement in educational and other social projects, and the University of Bristol.
The new Academy will accommodate 910 11 -16-year olds and 250 16 -19 year old sixth-formers and will operate a different school day system, as successfully pioneered by other schools. It will also specialise in enterprise and skills and will offer the the International Baccalaureate (IB) in preference to A-levels, recognizing that the IB offers a broad-based and flexible education that is highly regarded by both universities and employers.
For its security needs Merchant's Academy wanted a single integrated solution that could provide full access control of all perimeter doors as well as key internal areas and also incorporate photo ID cards, library ticketing, cashless vending and photo printing and copying all onto one operating system.
"As the premier education sector tailored access control system, the SALTO XS4 solution was ideal for Merchant's Academy," comments Jim Caola, MD of Gem Security Centre Ltd the local SALTO Inspired Business Partner who carried out the installation.
For its security needs Merchant's Academy wanted a single integrated solution that could provide full access control of all perimeters of the school compound
"Working in consultation with SALTO we designed a highly secure and flexible access control system to meet all of the requests of the school. The advanced system design incorporates 4K MIFARE cards operating via SALTO's Pro Access software to control 185 on-line and off-line doors and an additional innovative use of the technology was to secure and control access to the laptop computer stores using on-line wall readers teamed with electronic locks.
Key elements to Gem Security recommending SALTO for this project were the flexibility of the XS4 solution, the stylish modern look of the handle sets and the outstanding control provided by the SALTO Virtual Network. Another feature the academy really liked was the ability of XS4 to programme keys to allow access to specific rooms or areas for selected periods only with the doors locking at pre-specified times.
This timed locking facility allows for automatic locking between lessons and the locks can also be linked to a Central Education Management Information System (CEMIS) database if required. And if key security is breached due to the loss or theft of a key, it can be instantly deleted from the system without the need or cost of changing any locks - saving the school time and money," Caola continues.
Stephen Kings, Principal at Merchant's Academy comments: "Having security that is reliable and dependable is of key importance for us given the large numbers of young people needing to access our learning facilities. The flexibility of our new SALTO access control system means we can get the maximum benefit from the technology whilst providing a secure environment for all our students and staff, and the fact that it is modular and flexible means we can also expand it as and when our needs grow."
Download PDF version