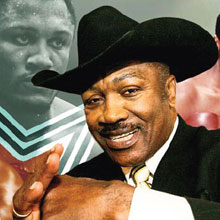 Legendary Hall of Fame heavyweight champion Smokin' Joe Frazier will also be at Digital Ally's IACP booth
Digital Ally
unveiled the new Thermal Ally Imaging Camera at booth number 1035 of the
117th Annual International Association of Chiefs of Police (IACP) Conference
in Orlando, October 23-27. Thermal Ally is a small, versatile, lightweight thermal camera that allows officers to see things they never would have seen before and prevent them from being exposed to danger, day or night, regardless of the weather.
Thermal Ally is the perfect tool to assist in routine patrols, fugitive searches, identifying disturbed surfaces, hidden compartments, locating evidence, accident investigations, search and rescue efforts, and much more. When used in total darkness, Thermal Ally increases an officer's vision, safety and effectiveness, allowing them to work undetected. The system features a focus free lens for fast target acquisition, centre point temperature display and multiple colour palettes for accurate identification of targets and evidence.
On Monday, October 25 from 11am to 1pm, legendary Hall of Fame heavyweight champion Smokin' Joe Frazier will also be at Digital Ally's IACP booth signing autographs and greeting visitors. An Olympic Gold Medal Winner, Joe Frazier achieved an impressive 32 Wins (27 KO's) in his profession career. In perhaps his most famous fight, he dealt Muhammad Ali his first professional loss in the "The Fight of the Century" at Madison Square Garden in 1971. 2010 marks the 35th Anniversary of their rematch, titled the "Thrilla in Manila".
In addition to the new Thermal Ally Imaging Camera and LaserAlly LIDAR Speed Gun, Digital Ally is displaying their full line of law enforcement products at IACP Booth number 1035, many with new features such as "Wireless N" capability, including the DVM Series of In-Car Video Systems, FirstVu Evidentiary Wearable/Mountable Video System, DV-500Ultra All-Weather Video System for motorcycles and more, and DVF-500 Digital Video Flashlight.
Download PDF version