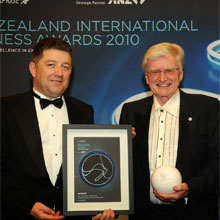 Judges commended the security division of Gallagher Group for its innovation, design and manufacturing
Gallagher Security Management Systems
is celebrating success again - this time as the winner of the 2010 New Zealand International Business Awards $10-50 million category.
GSMS were announced as category winners at last night's New Zealand International Business Awards, an event which recognises and celebrates companies who are successfully growing their business in international markets and New Zealanders who are leading the way in international business.
Twenty-five companies and five business leaders were acknowledged at the function with finalists from a range of industries including food production, biotechnology, engineering, apparel, consulting, and technology. The event also recognises professional excellence and innovative practice amongst New Zealand industry.
Judges of the category commended the security division of Gallagher Group for its innovation, design and manufacturing which successfully markets its products to over 130 countries via the business unit's expansive network of channel partners worldwide.
On receiving the award, CEO Bill Gallagher explained that while the security unit is very successful in its own right, what sets it apart is its ability to leverage the competencies and resources from other divisions within the whole Gallagher Group.
"Our in-house resources for tool making, plastics and electronics manufacturing and logistics mean that production can be controlled end to end from concept design to manufacturing. The benefits of this include quality control, rapid development and deployment to manufacture, and the ability to produce economic short runs as well as large production capability. All of this is centrally managed on our Hamilton site."


Mr Gallagher says the Group's R&D team of 90-plus staff have detailed and deep knowledge of the security sector, including electric fence technology, radio frequency identification, IT and security requirements, data encryption,
high security applications
, systems integration and industrial design.
"Our significant investment in R&D ensures we win a competitive advantage in the security market, proven by over 160 patents worldwide."
Download PDF version