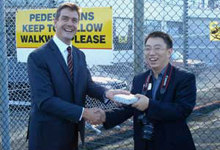 Gallagher's integrated security system monitors and controls in excess of 80 access points throughout the Port
As it expands its global reach,
Gallagher
works in close partnership with New Zealand Trade and Enterprise to promote its business in key export markets around the world. In a recent collaboration, Gallagher's security systems, implemented by Ports of Auckland, were showcased for Chinese IT journalist Shu Jie, Senior Editor / Reporter for Communications Weekly.
During a guided tour of the Port, Mike Gladman, Port Security Manager, described how Gallagher's
Cardax FT access control and integrated intruder alarms system
monitors and controls in excess of 80 access points throughout Ports of Auckland sites. In addition, 4 kilometre of Gallagher electric fencing secures the Port perimeter. The PowerFence™ system protects various internal access points from visitors' car compounds to sites which operate under hazardous substances (HAZNO) regulations.
Key aspects of the Gallagher security solutions of relevance to the IT and critical infrastructure sectors are their scalability, network compatibility, integration possibilities, open system architecture, high levels of encrypted communications and peer-to-peer communications enabling operational continuity independent of the server.
Peter Francis, Regional Manager - Asia Pacific for Gallagher's security business unit, is actively involved in solidifying the company's presence throughout the region. Francis now joins two NZTE Trade Missions to China, which he anticipates will deliver extensive business opportunity for Gallagher in this burgeoning new market.
Download PDF version
Download PDF version