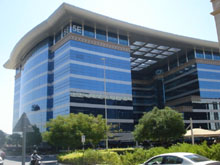 The new Group 4 Technology office in Dubai will become the Middle East sales headquarters
Integrated Security Management supplier
Group 4 Technology
is pleased to announce the opening of their new support office in Dubai. This move underlines the commitment to strengthen their position as a key security provider within the region.
Located in Dubai's Airport Free Zone, one of Dubai's fastest growing Free Zones, the new Group 4 Technology office will become the Middle East sales headquarters. The site will house technical support facilities together with a purpose built training centre to assist Security Integrators, Consultants and end users from throughout the Middle East and Eastern Africa.
"Offering excellent links to a wide range of markets, Dubai was the perfect location to set up our Middle Eastern headquarters. Recently launching the Arabic version of the Symmetry™ Security Management System, the Symmetry Video Management System and the EN-7900 Encoder Series, it is a very exciting time for Group 4 Technology" explained Amid Alshanteer, Regional VP of Sales for the Middle East and Eastern Africa.
UAE and particularly Dubai operates as a key commercial and trade centre in the Arab region, with excellent links to markets in India and the sub continent, Africa, the Far East and Europe.
Download PDF version