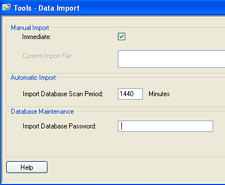 Group 4 Technology (G4Tec) remains committed to protecting people, property and information with top-quality solutions as they announce a technology update to its Symmetry Security Management System (SMS). Symmetry SMS combines all of the requirements needed for building security including access control, video management, alarm management, identity management, visitor management, and command and control into a single deeply integrated security management system for any size organisation.
"This upgrade to Symmetry allows G4Tec to stay one step ahead of the competition by delivering new capabilities and features to our customers," said Kevin Anderson, head of marketing for G4Tec.
Among some of these new features, security administrators can now seamlessly integrate any third party information system to Symmetry using the new Transaction Import feature located in the Data Connect module. This allows security personnel for example, to create detailed reports from third party systems to track human resource information, video activity, building management issues or cashless payment processes, etc. These reports can then be disseminated to the relevant departments to provide useful information to help companies track resources and information, correct costly errors, or monitor behaviour and will save companies money year after year.
Download PDF version
Download PDF version