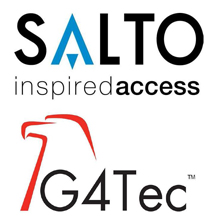 Partnership between SALTO Systems and Group 4 Technology will provide more versatility for customers
SALTO Systems
announces that its SALTO off-line access control readers now integrate with
Group 4 Technology's
Symmetry Security Management System (SMS).
SALTO Systems are world leaders in access control solutions. SALTO provides organisations with a solution for all their security and building control functions, enabling users to integrate all their physical security needs through networked stand-alone locks and manage up to 64,000 doors and users in a single system, securely controlling who has access to what, where and when at all times.
The partnership between SALTO and Group 4 Technology marks a new era in access control. Not only will users benefit from the simplicity of using the SALTO access control card for all doors but, should staff / students leave there are no keys to return, simply cancel the card from the system. New users can also be added with ease and access rights can be updated at the touch of a button.
Both smart cards and locks can be programmed to allow or restrict access to different parts of the building, while the information stored in the SALTO card can provide a precise audit trail for each lock within Symmetry SMS.
Marc Handels, Vice President Global Marketing for SALTO Systems says: "The integration of SALTO's advanced access control technology with the Symmetry Security Management System will provide unrivalled versatility for our customers. We are great believers in delivering 'best-in-class' solutions. This integration partnership between SALTO and Group 4 Technology perfectly fits that strategy."
"We are pleased to be able to offer our customers increased flexibility by integrating with such a respected, market leader as SALTO" said David Ella, Chief Technology Officer for Group 4 Technology. "The integration will bring worthwhile cost savings to large institutions and provide complete access control flexibility".
The integration of SALTO access control solutions with the Symmetry SMS system will enable most users, especially Universities and Hospitals due to the large number of users and wide range of access rights across their large campuses, to benefit from enhanced system flexibility across a diverse range of security needs.
Download PDF version