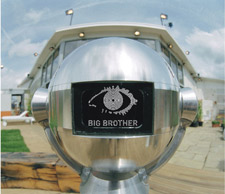 As the eighth series of Big Brother draws to a close
Forward Vision
, manufacturers of the popular 'Metal Mickey' cameras, confirm they supplied
MIC1-400
cameras for the popular Channel 4 series. Metal Mickey has become synonymous with the program; having been involved with Big Brother right from the start, back in 2000.

"To help get the first series on the air, we worked closely with Big Brother's technical facilities company Roll to Record to overcome the technical challenges relating to the control of the cameras," recalls Forward Vision co-founder, Peter Dobson. "In fact we all descended on the Big Brother house at Three Mills Studios, East London, for the entire weekend preceding the first show to install and commission the cameras and ensure the program went out on time!"
Series 1 of Big Brother used the MIC1-300 model, which was followed by several adapted versions including one with a flat top that allowed producers to mount studio cameras on top of it. Following this, a larger non-standard 7-inch ball camera housing was installed, which enabled a studio quality camera to be fitted inside the housing itself. In conjunction with Roll to Record, Forward Vision developed a PC based control system to specifically cater for all the Broadcast controls required for this camera and the environment it was being used in.
"The broadcast industry took to calling this the 'Muscle Mickey' because of its bigger size," Peter adds. "These days, with the advent of smaller high definition cameras, we've been able to go back to using 6-inch ball housings.
"Over the years, our close links with Big Brother have run parallel with Forward Vision's own development" says Peter Dobson. "Our success story began around the same time the program came to Britain from Holland and Channel 4's use of Metal Mickey images as bridge links in the program gave us valuable publicity in the company's early days."
More recently, Forward Vision's acquisition by the Extreme CCTV Group, which includes Derwent Systems Ltd., has enabled acceleration in engineering developments which include thermal, explosion protected and ballistic MIC1 models.
The eighth series of the often-controversial Big Brother show pulled in over 8 million viewers equalling the show's previous record for a launch night. It began for the first time with an all-woman house and this year's contestants include the first ever set of twins, a Posh Spice wannabe and a former lap dancer.
Download PDF version