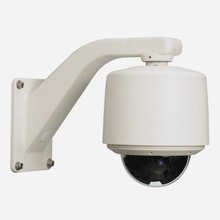 Vicon's SurveyorVFT pan-tilt-zoom camera dome
Vicon Industries Inc.
, a leading designer and producer of integrated IP video surveillance and access control systems, working with
Advanced Automation Systems, Inc.
of Tampa Florida, has found a novel and valuable application for its pressurised, high-performance
SurveyorVFT pan-tilt-zoom camera dome
. It is being used as a "Beach Cam" in Sarasota, Florida, where its live, 24/7 online video feed is helping to reassure potential tourists that the county's beaches have not been tarnished by this summer's oil spill. The camera slowly pans the entire expanse of beach, clearly displaying a 180 degree view of unspoiled white sand beaches and happy beach-goers enjoying the water.
Shortly after last April's Deepwater Horizon oil rig explosion, the Sarasota County Commission tasked staff with finding a way to let the public know that Sarasota County's award-winning beaches were not impacted by the event. In response, Sarasota County Parks and Recreation teamed up with the
Sarasota Convention and Visitors Bureau
, to install a state-of-the-art video camera at Siesta Beach as part of an aggressive public relations campaign.
Advanced Automation Systems (AAS), a full service automation contractor that has been providing the county government with video and access control solutions for the past 8 years, successfully installed the camera in a two-week time frame. Requirements for the camera included the ability to withstand Category 2 hurricane force winds, constant exposure to salt water, and to not fog up in the extremely humid beach front environment. Vicon's Pressurised SurveyorVFT dome with 35X zoom was selected, as it provided an exceptional quality image and met all rating requirements, including a stainless steel and powder-coated aluminium exterior. Live video from the Beach Cam is now
online
.
"The Beach Cam at Siesta Beach has enabled us to show the world through live, real-time video, that one of the country's top rated beaches remains open, clean and as popular as ever,"
said John McCarthy, General Manager, Sarasota County Parks and Recreation. The online camera is receiving an average of 5000 hits per week.
As a result of Sarasota County's foresight, beach attendance this season has not suffered and, in fact, has had higher attendance than last summer on some key holiday weekends.
Randy Schulman, Vicon's Territory Manager for the State of Florida, said:
"The Beach Cam idea has generated a great response, with coverage in the local media and interest now coming from other government agencies. It's very rewarding to have a Vicon product making such a positive contribution to the local economy."
Download PDF version