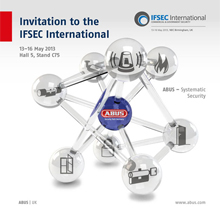 Products on show include network cameras and the tribrid digital video surveillance recorder
ABUS UK, subsidiary of ABUS August Bremicker Söhne KG in Great Britain, will for the first time be exhibiting video surveillance products for professional installers as well as for private users at the IFSEC International in Hall 5, Stand C75. The focus of the trade fair appearance is on the new 1080p HD network cameras for indoor and outdoor use as well as on the HDVR tribrid digital video recorder, which can simultaneously process signals from IP, analogue, and HD-SDI surveillance cameras. A further product highlight is the innovative Eycasa wireless intercom system for communicating, monitoring, and opening (door opener). In addition and specifically tailored to the needs of retail, ABUS UK will be exhibiting part of the video surveillance retail product range: products which can be put into operation in a matter of minutes according to the plug-and-play principle.
The ABUS Group has managed to close the gap between mechanical and electronic security. The ABUS Molecule, which was first presented at the world's largest security exhibition, Security 2012 in Essen, is the symbol of integrating security solutions of the alarm, mechanics, electronics, video surveillance and access control areas, which up to this point have been considered separately. The world of networked security solutions will now also be exhibited by British subsidiary ABUS UK at the IFSEC International in Birmingham (May 13–16, 2013). The focus of the trade fair appearance in Hall 5, Stand C75, is video surveillance and security systems that are perfectly matched to the needs of professional and private users.
ABUS HD 1080p Network Cameras: The right camera for every application
The broad range of ABUS products – from the standard network camera for indoor use to the vandal-proof and weather-proof IR networked outdoor dome – leaves nothing to be desired. The free video surveillance software VMS Express – Made in Germany – is included free with all cameras. ABUS network cameras are easy for professional installers to set up and, thanks to their high resolution, deliver outstanding image quality at 25 fps in nearly all models. Thanks to Power over Ethernet (PoE) or WLAN, the network cameras can be conveniently installed in nearly any location.
The Eycasa wireless door intercom system brings together video surveillance, intercom and door opening
HDVR – Tribrid Digital Video Surveillance Recorder
The new HDVR 3.0 is the triathlete among professional video surveillance recorders. It optionally supports simultaneous IP, analogue, and HD-SDI cameras in one system. This allows the customer to benefit from all the advantages of the latest developments in video surveillance without having to commit to a certain type of technology. The unique tribrid capability also turns the HDVR into a high-performance hybrid recorder, which opens up all possible combinations of the three camera technologies. Using the free online configurator, installers can also but together their HDVR themselves from more than 250 freely selectable setups tailored to the individual project requirements. In the maximum configuration of the new tribrid video surveillance recorder with Intel Core i7 processor, up to 64 analogue, 24 IP, or 16 HD-SDI channels are available. For example, up to 64 different analogue cameras can be combined, or alternatively 16 IP cameras can be combined with 32 analogue cameras – depending on requirements and the intended use. The freely selectable system configuration, which does not depend on the respective camera technology, allows the ONVIF-compatible HDVR to replace several conventional stand-alone recorder systems. The HD resolution possible on all channels means only around one-fifth of the number of cameras is required compared to standard VGA camera technology. The ABUS HDVR is designed for continuous professional use and has a capacity of up to 8 TB, which is accomplished with 4 hard drives, each with a capacity of 2 TB. If less storage capacity is required, fewer hard drives are configured – unoccupied HDD slots can be retrofitted. A RAID system that combines several hard drives and enables redundant data storage ensures data security and protection against failure. The integrated ONVIF-compatible ABUS video management software VMS 7.2 also allows for remote access to extensions.
Eycasa – convenience and security at the door
Under the motto "Communicate. Monitor. Open." the Eycasa wireless door intercom system brings together video surveillance, intercom and door opening into a clever combination. When someone rings the doorbell, they are unambiguously identified using the video door station with integrated video camera. With encrypted 2.4 GHz digital wireless technology, the video door station sends its live video images directly to the screen of the base station. Just take look at it, talk to the person through the integrated hands-free intercom, and press the button to open the door if required – that's all it takes.
The complete set includes the base station with a 7-inch touchscreen with hands-free intercom and the video door station with day/night function and an integrated intercom. The video door station includes a proximity reader which provides keyless access using the ABUS proximity chip. In addition, up to three Eycasa outdoor cameras (available separately) can be integrated into the system. They have infrared lighting for nighttime recording as well as a PIR sensor for motion detection.
Plug & Play range for retail
To achieve success together with dealers and retailers, ABUS expanded its product range with especially easy-to-install electronic plug-and-play security products. At IFSEC, ABUS UK will be exhibiting products including the digital door peephole HD, which recently received the prestigious Plus X award in five categories, and the digital wireless home video set with LAN, a complete set with a 7-inch monitor and an IR wireless outdoor camera, which can be expanded to include up to four outdoor cameras.
Download PDF version
Download PDF version