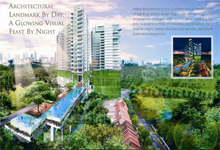 The seminar analysed recent projects where Fermax's access control solutions were applied
Fermax
hosted an encounter in Singapore with 200 of their best customers in Southeast Asia. The Valencian manufacturer is number one in the area, with a market share of more of 70% and experience spanning over 2 decades, allowing them to include their cutting-edge intercommunication systems in the most prestigious projects in the area.
The seminar, attended by the Singapore technical team along with specialists from Thailand, Malaysia, Vietnam, the Philippines, Indonesia and the Maldives, started analysing recent projects, as Helios Residence, a sophisticated complex incorporating 37 N-City Digital panels, and 70 fingerprint recognition access control readers (BIOKEY), guaranteeing maximum security in the accesses to each lift. In the 140 homes, the elegance, design and functionality of the iLOFT colour monitor were chosen.
Afterwards, the new products coming onto the market were analysed from a professional perspective and the most frequent demands studied in this market in anticipation of the needs of the western world, with special focus on IP systems, increasingly valued by the end user and which Fermax are including in their latest developments.
The seminar ended with dinner in an exclusive restaurant. In addition to the technical staff, executives from 200 key customers in the region attended, with Alberto Maestre, Fermax Corporate Development Director, acting as host, thanking the guests for their close collaboration in developing new products and maintaining their presence in the area. The Fermax subsidiary in Singapore has recently become the leader in turnover and presents a very interesting future perspective.
Download PDF version