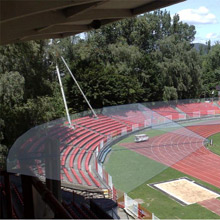 The Slovak football association has recommended the IQeye video surveillance system for all 18 stadiums
IQinVision
, market leader in high-performance HD megapixel network cameras, smart IP cameras, and network video recording systems, announced that, in cooperation with Slovak T-Com, IQinVision HD megapixel cameras are being installed in multiple football (soccer) stadiums throughout Slovakia to combat against "hooligan" violence and create a safer, more enjoyable atmosphere for all who attend football matches. The integrator for this on-going project is
Siemens
, with custom software provided by
Canex Connections
.
Thus far, three Slovakian stadiums have installed between 12 and 16
IQeye Alliance cameras
at each location to provide panoramic views of all seating terrace areas. Two more stadiums are scheduled to install the same array of IQeye cameras located in approximately six metal cylinders in the infield of each stadium and trained on the seating areas. There are 13 more stadiums considering installation of the same system utilising IQeye HD megapixel technology.
Security forces monitor activity in the stadiums from a central control room, where they use the cWatch Stadium Monitor System (from Canex Connections), an advanced new touch-screen control system to monitor camera images, zoom in to quickly and easily identify trouble-makers, and then immediately intervene to stop potential incidents. According to experts, the camera system meets the strictest standards of the European Union (EU).
Since August 2009, at least six separate incidents have been observed by the new systems and security forces and/or police have intervened to stop incidents and, when appropriate, prosecute wrong-doers. Incidents have included fights, lighting seats on fire, and burning flags.
The newly-installed solution has been welcomed by the highest representatives of Slovakian football.
"I am delighted that through the cooperation of the Union League Club, the Slovak Football Association and Slovak Telekom that our football stadiums are now using these advanced camera surveillance systems. This comprehensive solution fully meets the needs and stringent requirements of our Union. I believe that this step will lead to increased security, appreciated not only by all fans of Slovak football, but also the general public,"
said Charles Belaník, President of the Union League Club (ULK).
On the basis of performance to date, the Slovak football (soccer) association has recommended the video surveillance system, powered by IQinVision HD megapixel technology, for all 18 stadiums. All the stadiums are scheduled to have video surveillance systems installed by the end of autumn this year.
Download PDF version
Download PDF version