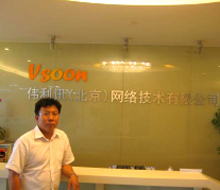 Vsoon Beijing has a strong focus on high communication IP applications
Nedap Security Management
and
Vsoon Beijing
have recently announced their partnership for the Chinese market. Vsoon Beijing will include the AEOS security management system in its product range.
AEOS consists of standard hardware and software components that can be used to create custom-made security solutions. AEOS fits perfectly in the product portfolio of Vsoon Beijing.
Vsoon Beijing has been active in the security market for more than 10 years and is headquartered in Beijing with a subsidiary in Shanghai. Vsoon Beijing is specialised in enterprise communication systems with a strong focus on high communication IP applications. Amongst the customers of Vsoon Beijing are the Chinese government, multinationals and financial institutions.
"In order to guarantee the standard high-quality of our services, we were looking for a professional partner that understands the needs of the Chinese market. In Vsoon Beijing we have found an experienced business partner that can respond adequately to the local security needs,"
says Nancy Wanders, Business Development Manager at Nedap.
The General Manager of Vsoon Beijing, Mr Wang Hongfei, adds to that:
"Vsoon is an initiator in the field of communications and a leading high-quality service provider in China. With the common understanding and experience of technology, Nedap and Vsoon had a good start and we are sure that with this cooperation we will be successful in the rapidly growing security market in China."
Download PDF version
Download PDF version