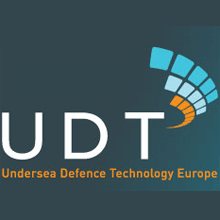 UDT 2011 was visited by large number of delegtes from 47 countries
An innovative approach to both the conference and the exhibition paid dividends for Undersea Defence Technology (UDT) 2011, which took place at ExCeL London from 7 - 9 June. The conference was attended by over 240 delegates from 47 countries with the plenary session attracting a full house for the keynote address by Rear Admiral Amjad Hussain, Director (Precision Attack) and Controller of the British Royal Navy.

Also highly popular was a scenario dedicated to challenges faced by nations in the South East Asia region a new feature introduced as part of the organisers' policy of bringing the technology of subsea defence to life in a vivid context.

On the exhibition floor the series of equipment demonstrations in the dive tank another new feature provided interesting theatre, as did the presentations in the innovation showcase. Doug Austin, Global Business Development Manager, Divex, said, "UDT was a great show for us due to the level of interest we have received on our new Shadow Enforcer product. Using UDT as our launch platform, along with having the ability to show the product under water in the indoor dive tank has generated positive leads and feedback."

The products and technologies developed for the undersea environment are very often complex, requiring in-depth explanation and exhibitors expressed their satisfaction at being able to spend quality time with quality visitors. Richard Morgan, Director, DSG Technology AS, said, "We have been consistently busy meeting visitors from key markets around the world. DSG's supercavitating ammunition technology is a proven, yet radically different approach to subsea defence and the opportunity to present its significant benefits in ASW applications face to face is very important. We shall certainly be back next year."
"BAE Systems and Seebyte Ltd signed a co-operation agreement to pursue business opportunities associated with the UK's Mine Countermeasure (MCM)..."
Uniforms from around the world were very much in evidence in the conference sessions and on the exhibition floor with many welcoming the organiser's, Clarion Events, decision to offer free attendance to qualifying personnel. Working with the UK government's UKTI Defence & Security Organisation, Clarion secured the attendance of military personnel from a number of countries with active submarine procurement programmes, including Australia, Japan and Thailand. Senior figures from the UK Ministry of Defence including Vice Admiral Paul Lambert, Deputy Chief of Defence Staff (Capability) also attended.
Among the business done at the show,
BAE Systems
and Seebyte Ltd signed a co-operation agreement to pursue business opportunities associated with the UK's Mine Countermeasure (MCM), Hydrography and Patrol Capability (MHPC) programme. The two companies intend to work together to develop fully integrated MCM mission systems offering innovative, flexible and adaptable solutions for the adoption of unmanned systems into future operations. Structural and acoustic composite materials engineers, Tods Defence announced the award of a contract for an additional two Bow Sonar Domes for the British Royal Navy Type 45 class destroyer programme. New business has also been won by Tritech, which has been contracted to supply Ultra Electronics with a suite of sonar equipment over a 12 month period.
UDT 2012 will be held in Spain from 29 - 31 May at the IFA International Exhibition Centre, close to the Spanish shipyard in Cartagena where the S-80 submarine programme is currently under construction. Clarion also announced that UDT Asia is returning in 2011, this time as a conference only event focusing on current operational issues facing navies in the Asian region. The conference will be held in Singapore on 30 November and 1 December 2011.
Tim Porter, Managing Director, Clarion Events, said, "
The undersea environment is increasingly being recognised as a crucially important arena. We have moved from the blue water focus of the Cold War to a highly complex three dimensional scenario involving subsea, surface and air operations conducted in coastal waters as well as in the deep sea. Meanwhile the portfolio of threats has expanded from national conflicts to include action by terrorists, drug cartels and pirates. UDT is evolving to reflect these changes and the success of this year's show indicates we are on the right track.
"
Download PDF version