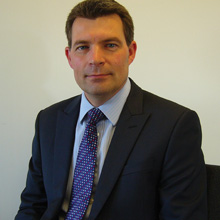 A key task for Roberts will be to enhance Elmdene's innovative security product portfolio
Innovative electronic security and fire products manufacturer, Elmdene International Limited - a subsidiary of Potter Electric Signal, LLC - announces the appointment of Justin Roberts as Sales and Marketing Director.

Justin is an extremely accomplished sales and marketing professional. He brings with him over 20 years experience in the security sector gained through roles spanning technical support, area sales and, most recently, sales and marketing at director level for a major security business. During this time Justin has been able to develop an extensive knowledge of industry best practice, standards and technological innovations, all of which should prove invaluable in his new position.
As Sales and Marketing Director at Elmdene, Justin will be tasked with overseeing the UK, export, and special project activities of the fast-growing business as well as internal sales and marketing. Another key task for Justin will be to identify new product opportunities to further enhance Elmdene's innovative security and fire product portfolio which now ranges from the award-winning, acoustically-driven, Merlin graffiti detector to highly efficient Switch Mode power supplies, magnetic contacts and external and internal sounders.

Commenting on his appointment, Justin Roberts said: "I was attracted to this position by Elmdene's strong reputation as a professional and forward thinking company with an excellent track record when it comes to product reliability and development, customer focus and support. Moving ahead, my primary objective as Sales and Marketing Director will be to ensure that, at Elmdene, we continue to work closely with our customers in the most effective manner possible to help support and build their businesses. I also want to ensure that we are well placed to offer the high quality service which the industry has come to expect from us."

Said Ian Moore, Managing Director, Elmdene International Limited: "We are delighted to have someone of Justin's proven track record and calibre join Elmdene. His appointment further strengthens our ability to move the business forward as we look to dramatically expand the reach of Elmdene's operations in the next 12 months.
"It also comes on the back of other key personnel moves, including the addition of a new Marketing Manager earlier this year and a Regional Sales Manager last month, with more significant announcements planned in very near future."
Download PDF version
Download PDF version