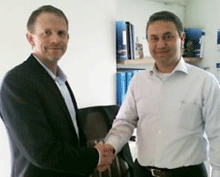 ArceonTeknoloji focuses on tailor-made security solutions
artec technologies AG, manufacturer of the MULTIEYE®High Definition Network and Hybrid video recorder, and Arceon Teknoloji announced that they have signed a partnership for the Turkish market.

ArceonTeknoloji was founded in 1990 and focuses on tailor-made security solutions. Customers from all over Turkey are offered superior service and high quality products. Intensive consultation, customer satisfaction and transparency in the implementation of projects in the private but also in the public sector are prominent.

According to the General Manager, Selcuk Gokce from Arceon, the company has chosen artec technologies AG as a partner because of the flexible software solutions, the local presence and its focus on long-term cooperation. Furthermore the use of IP video surveillance technology increases in comparison to the conventional analogue technology and this transformation can be completely covered by products of artec technologies, particularly by the hybrid systems.

An experienced team of 30 employees, provides project consulting, systems integration, walkthroughs, solution partnership, after-sales support and maintenance of technical services including the areas of CCTV, fire detection and prevention, access control and alarm management.
Download PDF version
Download PDF version