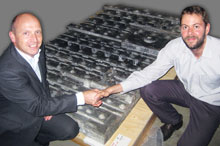 Mike Pawezowski and Jim Gledhill pictured with the historic door donated to The Museum of London
An 18th Century door owned by
Chubb
and used at Newgate Prison has been donated to the Museum of London to ensure its future preservation. Chubb is part of
UTC Fire & Security
, a unit of
United Technologies Corp
.
The prison door (7'10" by 4'3" wide, 6" thick) served as the 'Debtors' door' at Newgate Prison. This was one of three doors through which criminals were taken to the scaffold, an area of public execution, explains the Museums of London's Assistant Registrar for the Information Resources Section, David Chan: "Criminals first passed through an outer door of solid iron, followed by an iron-cased half-door and finally Chubb's iron-bound oak lattice door," he says.
"All three doors appear to have been in use since the first public execution outside Newgate, in 1783, and were last used at the execution of Michael Barrett in 1868, so to have one of those doors in our collection is particularly exciting."
Newgate prison, which dates back to the 12th Century, was demolished in 1902 and the Debtor door was purchased at an auction in 1903 by Messrs Chubb and Sons who lent it to the then London Museum. It was returned to Chubb in 1924 to be included at the British Empire Exhibition in Wembley Park.
Mike Pawezowski, Head of Marketing Services, Chubb Fire & Security said: "I am really pleased that Chubb has been able to donate such an important historical artefact to the museum. The Museum will now be able to allow visitors to see it as part of a wider exhibition, giving them an insight into London's oldest gaol. It is really great that the Museum becomes the door's permanent home."
The donation means that the Museum of London can fully commit to the door's care and preservation in perpetuity.
Download PDF version