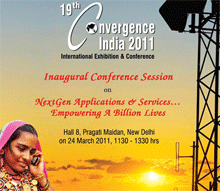 Convergence India 2011 was held between 24-26 March at Pragati Maidan New Delhi with a huge participation
The 19th Convergence India 2011 Expo organised by Exhibitions India Group at Pragati Maidan, New Delhi was the emerging role of Broadband Wireless Access (BWA) was topical and definitive at the opening ceremony of the 19th Convergence India 2011 Expo which began at Pragati Maidan. Envisaging a future for the communications industry to be data heavy, Hon'ble Minister Shri Sachin Pilot emphatically pointed during the inauguration that, " less than 1% Broadband connectivity is unacceptable." Admitting that the technology agnostic government needs to adapt itself to the latest developments, he said, "Convergence has happened much faster than anyone expected,."

However, Indian ICT industry has all the ingredients to lead from the front. Hailed as South Asia's largest event on information and communications technology, the 19th edition of Convergence India expo continues to make difference in the lives of ordinary men, by showcasing and promoting innovative technologies and new applications.

Looking ahead at the huge potential of BWA in India, the Minister further said, "different parts of the country have different definition (for Broadband). However, it should make tangible difference in people's lives we are targeting." India offers a large market place for all the stakeholders in the communication value chain. It is time for ICT players and regulators of Government of India to take collaborative efforts to provide high speed broadband services in rural areas and best services at the most affordable price.
Security and safety industry got a boost from Convergence India 2011 which was executed with a huge success by Exhibitions India Group
Reiterating the significance of growing importance of Broadband in India Mr. Robin Mersh, CEO Broadband Forum speaking in India for the first time said, "
India's growth in broadband in 2010 - second only to China and the United States - is leading towards the country soon becoming one of the top ten users of broadband in the world.
" India added more than 2.5 million new lines of broadband last year and now stands at No. 13 in the world having been barely in the top 50 of broadband countries just six years ago.
"
There has been tremendous and consistent growth in the broadband across India in recent years, yet this is just the tip of the iceberg,
" he added. Mr. Mersh was speaking in India for the first time at the 19th Convergence India Expo. Over 430 participants representing the Telecom, IT, Broadcast, Media & Entertainment, Green IT, Security & Surveillance, Cable, Satellite, IP Surveillance and Information Security sectors of 25 countries have gathered on this international platform to showcase cutting edge technologies, products & services.
The power-packed inaugural panel conference on "
NextGen applications. Empowering a Billion Lives
" was attended by industry stalwarts such as J S Sarma, Chairman (TRAI); Akhil Gupta, Deputy Group CEO& MD (Bharti Enterprises); Rajiv Bawa, EVP & Head Corporate Affairs (Uninor); Declan Byrne, Director Marketing (Wimax Forum); Gunter Kleindl, Chairman ( ETSI Technical Committee DECT); Rajan S Mathew, Director General (COAI); Robin Mersh, CEO (Broadband Forum) and Weimin Ying, President LTE Solution ( Huawei Telecommunications).
Fulfilling its long-standing mandate as a premier knowledge sharing forum, the inaugural conference of the 19th Convergence India 2011 was also a launching pad for the release of the industry white paper prepared by Shiv Putcha, Principal Analysts, Ovum and titled "
3G Gets Underway in India.
" The event attracted a huge number of trade visitors. Hon'ble Minister Shri Kapil Sibal, Minister of Communications & Information Technology, Govt. of India attended the event.
Download PDF version