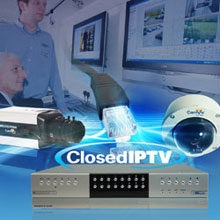 The Dedicated Micros 'Closed IPTV' Roadshows is targeted at security consultants, installers and end users
Dedicated Micros
- part of
AD Group
- announces that, starting next week, it will be taking the award-winning Closed IPTV solution to the road in its state-of-the-art demonstration vehicle. Selected venues across the UK will host a series of special 'Closed IPTV' Roadshows targeted at security consultants, installers and end users. These will combine background briefings with practical hands-on sessions hosted by Dedicated Micros' training team, highlighting the security and operational benefits of this deterministic IP video product solution.
A limited number of places are still available at the Roadshows which are designed to give participants a chance to test out the company's award winning, patent-pending, Closed IPTV solution for themselves; question experts from Dedicated Micros in a series of seminar sessions about the practical advantages of this industry-leading innovation; as well as seeing the comprehensive range of Dedicated Micros' NetVu Connected CCTV systems that are now available. NetVu Connected, the core video technology of AD Group, allows the seamless recording, management and control of both IP and Analogue products, within a single user interface - the NetVu Observer platform, NetVu Console, Pick-a-Point and AMS/VMS.
Venues and dates which have been confirmed for the Closed IPTV Roadshowsinclude: Midlands - Tuesday 30th November (Holiday Inn Rugby/Northampton); North West - Thursday 2nd December (Holiday Inn Manchester Central Park); North East - Tuesday 7th December (Bowburn Hall, Bowburn, Durham); East Yorkshire - Thursday 9th December (Holiday Inn Rotherham-Sheffield, Rotherham); South West- Tuesday 14th December (Marriott Hotel Saint Pierre, Chepstow) and South East- Thursday 16th December (Cheshunt Marriott Hotel, Turnford, Hertfordshire).
Closed IPTV enables installers and users alike to take advantage of a cost effective upgrade path to IP video
The 10 metre, fully heated/air conditioned demonstration vehicle is fitted out with High Definition displays, work benches for training workshops and seating for up to 20 people, with the major focus of its comprehensive suite of CCTV systems now being the revolutionary Closed IPTV capabilities of Dedicated Micros' latest solutions such as the SD Advanced hybrid NVR/DVR, the Infiniti integrated PTZ with thermal option, and the CamVu IP camera range, featuring the superb low light performing CamVu 500. All AD Group's product offerings are also available to view on the vehicle including PatrolVu from TSS, TransVu from AD Mobile, FireVu from D-Tec and FlightVu from AD Aerospace.
Taking its cue from the simplicity and security of a traditional CCTV installation, the Closed IPTV solution installed on the Demonstration Vehicle uses a completely deterministic set-up which automatically maps the IP camera to the port on DM's Layer 3 Enhanced CCTV Switch and in turn, the corresponding camera input number on the hybrid DVR/NVR. This approach, combined with DM's unique implementation of secure modes means that when it comes to IP video, complete security of the IP endpoints can be achieved with a single click preventing hacking attacks. Closed IPTV enables installers and users alike to take advantage of a cost effective upgrade path to IP video, including the benefits of HD video, allowing the seamless installation recording and management of both analogue and IP cameras.
Said Pauline Norstrom, Director of Worldwide Marketing at Dedicated Micros:
" We are delighted to be able to take our Closed IPTV solution out to key venues across the country to offer security professionals and end users an invaluable opportunity to appreciate the practical and security benefits of patent-pending Closed IPTV and our other CCTV solutions at first hand. Since Closed IPTV's launch - and series of award wins - we have had an overwhelming interest in this capability. Thankfully, our large, comprehensively, equipped, rapidly deployable vehicle gives us the flexibility to meet this soaring demand by parking up at convenient locations, well away from the more usual exhibitions or our in-house training suites.

"With Christmas coming up guests will also be offered festive refreshments and an opportunity to enter our prize draw to win £50 Marks and Spencer Vouchers at each event."

For more information and to book a place on the Roadshows please visit:
http://www.dedicatedmicros.com/europe/ClosedIPTVRoadshow2010/
Download PDF version