CCTV solutions from Dedicated Micros - part of AD Group - including DVRs and the latest TransVu mobile technology, are at the heart of a Proactive Audio-Video (PAV) surveillance system helping to protect the public parks, swimming pools and other areas of the Canadian capital city, Ottawa, from the safety and security issues caused by vandalism, drug use, drinking, graffiti and other inappropriate activities.
Logistical challenges
In Ottawa, more than 700 parks and outdoor recreation facilities are spread over an area of 2,760 square kilometres, making it difficult to patrol each location around the clock. Bob Gauvreau, Manager of Corporate Security in the Business Transformation Services Department of the City of Ottawa, was given a mandate to reduce the risk to the city. The corporate security team decided to accomplish this by establishing a cost-effective surveillance system.
"We decided to start with the city's outdoor public pools," says Bob Gauvreau, Manager of the Corporate Security Division, City of Ottawa. "Swimming pools are particularly vulnerable to misbehaviour. The glass from just one broken beer bottle can shut down a pool for a day. All pool water must be drained and replaced if any harmful substance gets into it. Over the years, people have thrown everything from paint to transmission fluid into the pools. There is also a serious liability and public safety issue wherever people can hop a fence and lose their life by drowning."
Proactive audio-video
Gauvreau oversees a division of seven staffers who administer an integrated security management system for the city. Working cooperatively with the city's systems integrator, Sunotech Canada, Inc., Gauvreau's team developed a Proactive Audio-Video (PAV) system using motion-sensitive day/night dome cameras programmed to activate when an area is closed to the public. Any movement within a defined area triggers the motion detector, sending an alarm to the 24-hour Security Operations Centre, activating a loudspeaker, and starting a DVR recording.
A real-time video feed to the city's 24-hour operations centre enables security operators to assess the situation and verify the alarm before diverting first response personnel to take action. A loudspeaker system allows security to call the site and direct the person(s) to leave the area, informing them that they are under surveillance.
"Some have called this system the `Voice of God,' and you can just imagine the surprise when we tell perpetrators that they are under observation and describe their actions to them," says Gauvreau. "We say the magic words, `the police have been called,' and they quickly flee the area."
PAV systems were installed at all 16 outdoor swimming pools and reduced vandalism costs by $700,000 in one year. The program was so successful at eliminating graffiti and other problems that the city decided to install PAV systems in a handful of parks and national historic sites that were the scenes of illegal or undesirable night-time activities.
"The TransVu DVR permits us to receive and evaluate alarms and speak directly to perpetrators," says Bob Gauvreau, Manager of the Corporate Security Division, City of Ottawa
The key challenge was how to get a real-time video feed from a DVR in a remote park location back to the 24-hour centre. This would also allow security to review recorded video images remotely, instead of travelling onsite as they did with a few pools that lacked high-speed network connections. But none of the parks locations had broadband network connections, so a creative solution was required. The system needed to be able to store locally high quality images but have the ability to transmit live or recorded data in lower bandwidth version.
Dedicated Micros CCTV solution
The Digital Video Recorder platforms from Dedicated Micros - including the DS2 - provided the answer. The professional, connected CCTV solutions support low-bandwidth remote network links over dial-up modems.
The first property to get a Dedicated Micros' DVR unit was a period village located in a remote park at the edge of the city. A major tourist attraction during the day, the historic site had become a popular night-time hangout for youths, who engaged in illegal and dangerous activities.
"Using a regular POTS phone line and a DS2 DVR, we set up a PAV system capable of sending real-time images back to headquarters," says Frank Marschall, Directeur/Director, Sunotech Canada. "Over the next six months, a total of eight Dedicated Micros' DVR units were deployed at various outdoor park facilities in the same manner."
Mobile surveillance with TransVu
But Gauvreau wanted to take this new Parks Protection Program even further. He envisioned a mobile unit that could be transported and placed temporarily in areas identified as potential "hotspots" for criminal activity. The key challenge in this project was the need for a rugged mobile DVR that could communicate wirelessly with the operations centre.
A real-time video feed to the city's 24-hour operations centre enables security operators to assess the situation and verify the alarm
Once again, Dedicated Micros delivered a solution - the TransVu Mobile DVR specifically designed for public transport applications. Fully network capable and using the TCP/IP protocol, the reliable TransVu can be accessed via wireless LAN or cellular (GSM/GPRS/CDPD) interfaces. It is capable of multiplexing and recording eight video cameras while handling two channels of audio.
Operating by batteries, the mobile Proactive audio-video system includes a Pan-Tilt-Zoom camera, TransVu DVR, motion detectors, audio speakers, and cellular transmission all contained in a self-sufficient trailer that can be quickly moved to a required area. The program consists of coordinating incident reports, identifying repeat or high-risk areas, and then placing the mobile unit in the park for a defined period of time.
"Thanks to the TransVu DVR, the mobile unit functions just like the permanent PAV systems and permits us to receive and evaluate alarms and speak directly to perpetrators," says Gauvreau.
Now that the corporate security team has had time to work with the Dedicated Micros' DVRs and TransVu units, the technical benefits have become evident. These include instant GOTO access to any time/date recording; TransCoding real-time conversion of data for efficient transmission of video; and MultiMode advanced recording technology for dynamically switchable resolution, record-rate, and compression.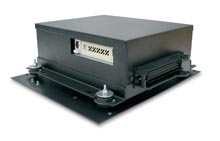 Dedicated Micros TransVu can be accessed via wireless LAN or cellular interfaces
Best practice benefits
The success of the Parks Protection Program has attracted national and international attention. According to Gauvreau, several U.S. and Canadian cities have contacted his department to learn more about the program. Security Magazine awarded the city a Best Practice award in 2004; Parks and Recreation Ontario (PRO) also recognised the program with a 2007 Award of Excellence for Municipal Administration.
The ability to leverage low-bandwidth connectivity via dial-up modems and wireless connectivity via cellular transmission saved the government from spending tax dollars on installing broadband lines in remote areas of the city.
Fostering community
Gauvreau concludes that the program has been highly successful at: "taking back our parks, by fostering a sense of security on the part of the community and encouraging their participation and presence in our parks system."
Download PDF version
Download PDF version