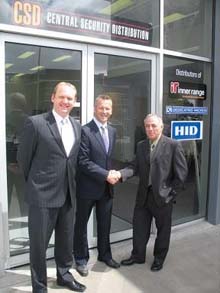 In addition to selling Dedicated Micros' CCTV products, CSD is geared-up to deliver a high level of technical support
CCTV specialist
Dedicated Micros
- part of
AD Group
- announces the appointment of
Central Security Distribution (CSD)
as a key distribution partner for its industry leading products across Australia.
The agreement will allow CSD, from November 3, 2008, to offer its customers a full range of DM distribution products including Digital Video Recorders (DVRs) such as the new SD Range, the popular DS2, the Eco and for larger installations the BX2. Also available from CSD will be the latest ICE range of cameras and mini domes, the popular 2060 and 2040 PTZ dome cameras and high performance IR Illuminators.
Said Mikael Johansson, Regional Manager (Victoria) at Dedicated Micros, who played a key role in negotiating the company's link-up with CSD:
"We are delighted that CSD is now an integral part of our distribution network in Australia. We have been very impressed with the investment they have made in their infrastructure and, with branch offices in Queensland, New South Wales, Victoria, South Australia and Western Australia, we are confident they will be able to provide the best possible service and support for future purchasers of Dedicated Micros' solutions."

In addition to selling Dedicated Micros' CCTV products, CSD is geared-up to deliver a high level of technical support. For enhanced customer service the distributor's technicians are now authorised to provide certain local repairs, specifically HDD and fan replacement, on selected DM products.
Moving forward, the synergy of Dedicated Micros' solutions with CSD's existing high end Access Control System - Concept 4000 - also means that the distributor will be able to position itself as a one-stop supplier of integrated Access Control and CCTV systems.
Commented Mark Cunnington, Managing Director at Central Security Distribution:
"This landmark agreement with Dedicated Micros reflects our underlying vision, as part of a multi-million dollar development programme, to offer cutting edge solutions from the world's leading security brands. We believe that DM with more than 25 years experience in the CCTV sector is an ideal partner for us, particularly as a new security distributor in the Australian market, and look forward to an extremely positive and productive relationship."
Download PDF version