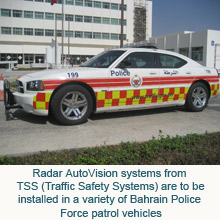 TSS (Traffic Safety Systems) - part of AD Group - has announced that the Bahrain Police Force plans to procure 19 of the company's advanced Radar AutoVision mobile CCTV systems.
The new Radar AutoVision systems are to be installed in a variety of Bahrain Police Force patrol vehicles to assist officers in their roads policing duties. This order follows on from a successful in-vehicle trial, which began in December 2007, and to date has helped the Bahrain Police Force to obtain nearly 700 prosecutions for excessive speed and inappropriate driver behaviour.
Comments Julian Cooke, International Sales Manager at TSS: "We are delighted with the contract from the Bahrain Police Force which, crucially, is for nearly double the number of systems we initially anticipated. The increased order is a direct result of the local traffic police being able to see the benefits of the mobile digital CCTV on the ground, with Radar AutoVision proving itself to be extremely effective when used on the busy Bahrain Causeway, a four-lane highway, which links the territory with Saudi Arabia."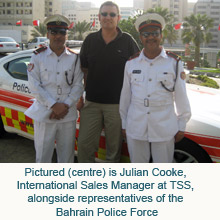 Once fitted in a police car, Radar AutoVision is able to integrate accurate speed measurement with digital CCTV evidence of a target vehicle that has exceeded the speed limit or committed other traffic violations. The system comes with NetVu ObserVer video management software which allows users to readily view and copy images from the Radar AutoVision's removable hard drive. There is also the potential for it to be used in a stationary or moving vehicle and to monitor offenders travelling towards or away from the police car.
Said Deputy Director of Traffic Police, Lt. Colonel Sheikh Abdul Rahman Bin Subah Al Khalifa: "I know that the officers I have spoken to have been extremely impressed with the TSS solution and believe that it gives the Bahrain Police Force an extremely potent weapon for traffic law enforcement throughout the territory."
The order from the Bahrain Police Force underlines TSS's growing presence in the Middle East region and the company expects to be able to announce further contracts in the year ahead.
Download PDF version
Download PDF version