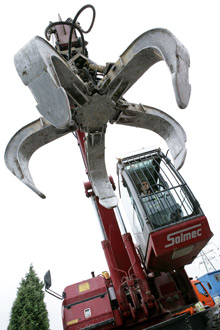 Premier Waste (UK) Ltd has adopted the latest remotely monitored, detector activated, CCTV service from RemGuard Visual Management - part of AD Group - to secure its extensive waste management and recycling site in Hyde, Greater Manchester. The facility hit the headlines in September when CCTV images were shown in the media of a teenager aiming what appeared to be an AK47 rifle from the adjacent Newton Railway Station.
A crane driver spotted two youths acting suspiciously, one of whom seemed to be pointing a rifle in his direction, and radioed Frank Ridley, a Director at Premier Waste (UK) Ltd, who was able to control the CCTV locally - using NetVu ObserVer viewing software supplied with RemGuard's RemVu Aquila transmission equipment - to take a closer look at the scene as well as contacting both Greater Manchester Police (GMP) and RemGuard.
Although the incident happened during the day, according to Ridley, RemGuard provided invaluable assistance: "They were able to supply images of the youths which we presented to the police. The footage helped to bring about the arrest of the suspects with a 15-year old given a final warning and a 17-year old a community order. Although it turned out that the AK47 was a replica there was no way of us knowing this at the time. It was certainly good to have RemGuard's help and advice to turn to for what seemed on the face of it to be a much more serious event."
The remotely monitored, detector activated, CCTV solution adopted by Premier Waste (UK) Ltd to deliver out-of-hours protection consists of cameras, including Dennard 2060 domes, and detectors placed strategically around the site linked by specialised RemVu Aquila transmission equipment to the RemGuard's BS8418 compliant RVRC (Remote Video Response Centre). Here RemGuard's operators can visually confirm what is happening, call-up on-screen plans of Premier Waste (UK) Ltd's site - and even issue verbal warnings (via on-site speakers) to intruders. If necessary the RVRC operators can also alert the police who, as the incident is confirmed visually, should provide a priority response.
According to Ridley there have also been a number of out-of-hours incidents were the RemGuard service has proved particularly helpful: "The fast response of operators at the Remote Video Response Centre secured an arrest and conviction in one of the incidents. We also used to have problems with youths coming into the yard and hotwiring the vehicles. The good news is that because of RemGuard's vigilance this kind of incident has stopped completely."
Said Kerry Jones, Customer Services Manager, RemGuard Visual Management: "We are delighted with the positive impact that our service has had on security levels at Premier Waste (UK) Ltd and the encouraging customer feedback we have received from their management team, including Frank Ridley, following our assistance with the replica AK47 incident and other less high profile, but equally critical, events."
Download PDF version
Download PDF version