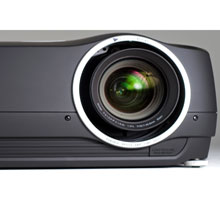 F35 wqxga, world's highest-resolution DLP® projector has AV integration with 2560 x 1600 pixel resolution
Innovation is the name of the game, when it comes to Norway's
projectiondesign®,
when the company exhibits at the upcoming
Integrated Systems Europe
show in Amsterdam. projectiondesign will exhibit at Integrated Systems Europe 2011, Amsterdam RAI at Stand 1J27 between 1-3 February 2011.
Hailed by users, integrators, consultants and media alike, projectiondesign's multi award winning FR12 Remote Light Source™ (RLS) projector relocates the lamp to a rack-mount enclosure that can be positioned up to 30m (100ft) from the projector head, with lighting passing from source to head via the company's patented Liquid Light Guide (LLG) cable technology. On projectiondesign's stand at ISE, this will be shown integrated into an ErgoDesk Multifunctional Industrial Workstation - a highly configurable operator console from control-room furniture specialist Suveren Rormobelfabrikk AS.
Also on show will be the world's highest-resolution DLP® projector, the F35 wqxga. Boasting 2560 x 1600 pixel resolution, this projector has also taken the AV integration world by storm with its superb image quality unmatched by any rival in its price and size categories. Designed for the demanding user, it features nearly double the resolution of the nearest competing product.
Lokke said: "Each ISE has been better than the last for us, and we believe ISE 2011 will be no exception."
Other projectors on show will feature solid-state LED light sources and 3D stereo capabilities, reflecting two of the trends most likely to influence decision-making in the corporate sector in the months and years to come.
Anders Lokke, International Marketing & Communications Manager at projectiondesign, comments:
"Our focus at ISE this year is on corporate usage and on applications such as command and control where, we believe, the flexibility of installation enabled by our RLS technology is going to win us many friends. All the innovations we unveiled in 2010 are now available, and as 2011 unfolds we will see the reduced TCO and rapid ROI of our products appealing to more and more users in business and in industry.


As in 2010, projectiondesign will be participating in the InfoComm education schedule at ISE, with sessions that are approved for CTS RUs (Renewal Units). Topics to be covered include basic and advanced 3D projection technology, colour matching and calibration.
"Each ISE has been better than the last for us, and we believe ISE 2011 will be no exception,"
Lokke concludes.
"The show is a great opportunity for us to catch up with all our established industry partners but, just as important, it never fails to deliver new customers and new projects for which, now more than ever, we have an unbeatable range of projection solutions."
Download PDF version
Download PDF version