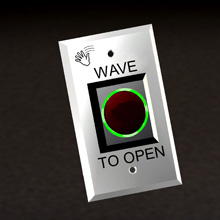 Dortronics' new 5278 Series of proximity activated switches help users maintain a sanitary environment
Dortronics Systems, Inc. today at ISC West unveiled its new 5278 series of proximity activated switches with industry-leading functionality and design to help users maintain a sanitary environment. The economical solution for touchless ingress/egress utilises optical infrared technology, allowing a simple wave of the hand to activate the switch.
"When utilised with electronic locks and automatic door operators, the new 5278 can greatly reduce the potential to spread contagious diseases since no actual hand contact is required to activate the switch," said Bryan Sanderford, National Sales Manager, Dortronics Systems, Inc. "In addition to providing user convenience, we also designed the 5278 for easy installation and integration with virtually any card access system."
The 5278 is engineered with an imbedded optical sensor that picks up motion within a four inch (4") range of the face plate. If inadvertently touched, the sensor will pick up the motion before actual contact, resulting in normal operation. The switch also features an illuminated LED ring that designates switch status and allows for clear visibility under low light conditions. The LED ring is red during the normal standby mode and green when activated in trigger mode.
Available as single or double plate, the 5278 switches are supplied standard with six inch (6") leads. An eight-conductor cable connects to the double pole double throw outputs and the 12VDC power input. The 5278 switches are suitable for bathrooms, laboratories, hospitals, air locks, clean rooms or drive up windows.
Download PDF version