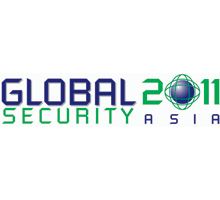 GSA 2011 will showcase latest security screening, biometrics, surveillance and security risk management solutions
Reinforcing GSA 2011's position as the premier "must attend" event in the Asia Pacific region, major technology vendors and specialists will be showcasing the latest in Homeland Security solutions and concepts. Some of the industry giants participating at the event, to be held from 15 -17 March at the iconic Marina Bay Sands Convention Centre, Singapore, include global players such as Lockheed Martin, Motorola Solutions, SITA, and Thales.

According to Andrew Marriott, managing director, GSA Exhibitions Pte Ltd, "Global Homeland Security vendors see this year's GSA 2011 as the ideal platform to launch, promote and showcase their latest technology to a very targeted and focussed audience. They recognise that this event brings together, under one roof, some of the most influential and sophisticated thinkers and analysts as well as policy and enforcement agencies from the region, the US and Europe."

Reinforcing this view, Balbir Singh, Vice President, Sales and Operations, Government & Enterprise, Motorola Solutions Asia Pacific said, "We are thrilled to once again be taking part in Global Security Asia, where we are spearheading the discussion on Next Generation Public Safety technologies and applications that are defining the future of the industry. GSA 2011 is the ideal forum and platform for policy-makers across Asia Pacific to discuss industry-wide issues which we are happy to be involved in as a major industry player."

Transforming Next Generation Public Safety

Technologies on show range from the latest in security screening to biometrics, land, air and sea security solutions, internet and computer security, and solutions to counter Chemical Biological Radioactive and Nuclear (CBRN) threats. According to vendors participating at GSA 2011, some of their latest solutions will see the global launch at this year's event. These include cutting-edge commercially available solutions for enforcement agencies as well as analysts and profiling solutions for researchers and the intelligence communities.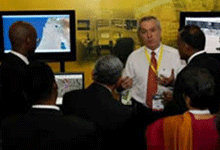 Major technology vendors and specialists will showcase the latest Homeland Security solutions
Motorola Solutions, a leading provider of business and mission-critical communication systems and services, will feature their Next Generation Public Safety solutions such as Real-Time Video Intelligence which combines advanced new technology capabilities to provide real-time sharing of voice, data and video communications for public safety professionals.

Securing Asia Pacific's Air Travel

Identity fraud and air travel security have been a major issue for governments worldwide. Enforcement agencies are today combining sophisticated border security management systems with biometrics, and credential management solutions to better address identity authentication, fraud, air travel security, and profiling.

SITA, the world's leading specialist in air transport communications and information technology (IT) solutions will unveil its iBorders BioThenticate solution at GSA 2011. The new biometric identity and credential management system, using unique biometric characteristics - such as fingerprints, face and retinal images combined with risk analysis of biographic data (Passenger Name Record - PNR; Advanced Passenger Information System APIS; APP) into a single security framework - to accurately identify and verify each personnel concerning their right to be on a plane or any other mode of transport.
"GSA 2011 is uniquely positioned to be the premier forum and showcase for Homeland Security professionals from around the world......": Andrew Marriott
According to Sean Farrell SITA's Portfolio Director for Biometrics, "Asia is leading the world in the implementation of biometrics to improve border security, so it is appropriate that we are here in Singapore to discuss global security issues. The trend is to combine the use of biometrics with sophisticated risk analysis which based on data provided by airlines and other carriers to governments will enhance security."

He also added that sophisticated air border management systems that use biometrics and extensive passenger data analysis are currently being deployed with great success by governments and agencies in the region. The benefits of such solutions are two-fold; security at the border is improved and cross border traffic is processed faster. "It is important to invest now in this technology and to provide travellers with safer and smoother international travel," he added.

"GSA 2011 is uniquely positioned to be the premier forum and showcase for Homeland Security professionals from around the world, especially the Asia Pacific region. Homeland Security is no longer about individual countries or agencies but a sophisticated network of partnerships, latest technologies and pro-active monitoring and management. Technology enables agencies and professionals to stay ahead. At GSA 2011, the latest solutions at the forefront of current technology will be on show to the World," concluded Andrew Marriott.
Download PDF version