The integrator
F & N Enterprises of Tucson, AZ is a low voltage systems integrator specialising in commercial/residential installation of burglar, fire and surveillance security systems. They are experts in the deployment of structured cabling, voice and data infrastructures, using UTP and Fiber Optics.
Project background
A leading grocery chain's corporate security and loss prevention departments had requested an overall upgrade to the region's facility surveillance systems. These facilities included grocery stores with gas stations, and regional distribution centers. They had a directive to integrate the most cost effective progressive technology, increase the camera count, and be able to easily relocate existing cameras.
Each project location varied slightly in camera count. Stores required from 24 to 64 cameras. The distribution centers would need over 100 cameras added at each location. Multiple racks and recording equipment were located within management's office space in each facility.
The technology
The system upgrade required the best technology, ease of use, superior video imaging, day or night, and full location coverage. There was also a requirement for public view monitoring (PVM), remote information/image retrieval and a more advanced system of image management. The transmission methods to be considered were; IP cameras powered by PoE via Cat5 Unshielded Twisted Pair (UTP) to an NVR, analogue cameras via standard video coax (already in use) to a hybrid DVR, or analogue cameras powered by a Hybrid Video Power Supply via Cat5E UTP to a hybrid DVR.
All store locations were already cabled for voice and data using Cat5 UTP cabling. The corporate mandate also included a strict adherence to the EIA/TIA 568B termination pin-outs and UTP structured cabling standards for voice and data transmission. It was sensible to use the same cabling infrastructure platform for surveillance applications as if and where possible.
Other system considerations
IP cameras via UTP and analogue cameras via UTP both allowed cameras to be powered remotely using UTP cables thereby maintaining that 568B standard. This was a big plus. Many of the stores had fuel stations located on site, but often times located at the front of the property. Each fuel stations needed an enhancement to surveillance coverage too. If they chose to use coax cable, there would be a need to install over 15,000 feet of cable. This further confirmed the commitment by corporate management that the decision to go with standards based UTP was the correct one. The use of UTP reduced material and labour costs by 50%.
IP cameras via UTP or analogue cameras via UTP hybrid video?
The choice was made to use, analogue cameras via an NVT UTP Hybrid Video network. The NVT system was scalable, manageable, standards based and affordable. Another selling point of using the NVT was it allowed for a possible infrastructure stepping-stone in the future. By installing the Cat5 cabling, it provided a system with better performance standards today, as well as having the cabling in place for mix of IP cameras should the need arise in the future. That made the overall systems more flexible. In the future, certain areas of the store may be targeted for IP enhanced video, some may not, but all areas are ready.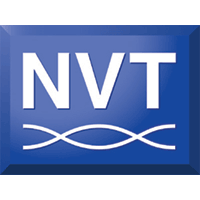 The NVT system was scalable, manageable, standards based and affordable
The install details
Headend: F&N Enterprises installed a Cat5 patch panel in the rack housing with the DVRs, and monitors. Standard patch cords were used to patch across the RJ45 connectors to the NVT DigitalEQ™ Active Hub. The output of each hub was directly connected to the DVR via standard NVT supplied coaxial jumpers. Wire management was used to create an extremely clean and professional looking installation. A single-channel NVT device was used at each camera location.
The Fuel Stations: The solution provided for the fuel stations was a rack mounted NVT passive hub in the fuel station and NVT active hub in the headend rack. While the powered hub was not required by NVT specs, it did allow the video signal to be equalised to match those signals provided by in-store cameras.
Power and Video To The Cameras: Analogue, high resolution mini-dome cameras were used throughout the project. Most of the UTP runs were around 150 feet. Run length to the fuel stations were typically 1200 feet.
All cameras on the project were powered by the NVT PVD™ power supply cable integrator hubs. These PVD power hubs supplied video, control and camera power using a 568B standards based UTP cabling network, which was very organized, easy to understand and able to be used in the future for IP retrofits as needed. These hubs, once installed in a central position, powered a co-located (star topology) group of cameras. The cameras were connected to the system via power-video transceivers which are small in size, easy to hide and protect from tampering.
The cabling infrastructure
All of the Cat5E UTP cabling that was installed replaced coax. The entire network was converted to structured cabling via UTP. The Cat5E was very cost effective, easy to pull and terminate. Cat5E transmission performance is well within that required for the video transmission application.
Fred Francis of F&N said, "The NVT product is really a quality piece of equipment. It's well suited, designed for its use. We did have a problem with one hub where we didn't get any AC for ports 1-8. The return-swap was immediately handled by our distributor and NVT, we had a replacement the following day. No problem getting it resolved. The NVT tech support department is well trained, knowledgeable, and treated us respectfully. The equipment installs easily.
I've seen 5,000ft of Cat5 cable running video with great results: superior picture quality! Installing it in the fuel station scenario above, saving money, saving time, and with great results brought it all into crystal clarity."
There are choices regarding the media used for your cabling infrastructure that allow the end-user more flexibility in their future systems needs and choices. The most common media for IP transmission is UTP. Whether you are deploying an analogue, a hybrid, or a purely IP based system, Hybrid Video via UTP is worthy of consideration.
Download PDF version