Network Video Technologies' award-winning unshielded twisted pair (UTP) CCTV camera Hybrid Video™ transmission technology, has been specified by Spectre UK Ltd, at Redhill School in Arnold, Nottingham, England.

Dedicated to providing a secure and safe learning environment for its pupils, staff and visitors, Redhill School's management chose Spectre UK for the design and implementation of an integrated security solution that would encompass a site-wide CCTV system, access control technology and automated gate functionality.

Spectre UK has many years of experience in school security design and installation. As such, the equipment specified is required to be of the highest quality, with manufacturers selected for their reputation, reliability, technical specification, service and upgrade support. Spectre UK's history of electronic security provision assured the school that a total solution could be integrated effectively, and with minimal impact on daily operations.

Complementing and partly replacing a camera system already employed at the school, Spectre UK engineers installed vandal-resistant dome cameras at strategic points around the interior of the building. Designed to cover previous blind spots and replace poor performing existing cameras, the new system provides the optimum scene coverage, whilst ensuring that the best quality of camera images are captured.
Comprehensive coverage
Covering the school's corridors, entrance and exit points, assembly hall, dining area and points of high pedestrian flow-rates (during lesson change-over periods), each camera is equipped with an NVT NV-214A-M UTP Video Transceiver. This affords transmission over single-pair Cat5 cables to a local distribution point, where they are then transmitted to an on-site equipment rack within the school's office area, via a multi-pair Cat5 UTP backbone. Images are received by an NVT NV-1672 16-Channel DigitalEQ™ Active Receiver Distribution Amplifier Hub, which employs NVT's latest generation DigitalEQ™ technology. The NV-1672 hub allows the transmission of real-time monochrome or colour video for distances up to 1.6 kilometres (1 mile) using UTP cable. At Redhill School, the furthest camera is situated 550 metres from the control room, so use of the NVT NV-1672 not only delivers high-performance imagery, but also the potential for further expansion to the camera infrastructure via simple product stacking.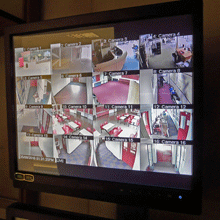 Each security camera at Redhill is equipped with an NVT NV-214A-M UTP Video Transceiver

From here, images are controlled and recorded via the latest DVR technology, and encoded onto the school's Local Area Network (LAN), giving authorised users the ability to view live and recorded footage both on and off site, as Marcus Robinson, Facilities Manager at Redhill School explains: "The ability to view the school building off-site provides an instant remote overview via the high-quality CCTV footage, bringing a multitude of advantages. It allows school staff and lone workers to be monitored when working out of hours or during school holidays, assuring their security at all times. Additionally, if we have an alarm activation, I can advise the on-site caretaker about the nature of the issue, before he enters the building. This can confirm false alarms quickly and easily, maximising school resources and importantly, helping our caretaker not to investigate and disturb any possible intruders without waiting for the police."
NVT UTP advantage
Utilising NVT Hybrid Video™ transmission provides the best of both analogue CCTV and digital video solutions. NVT Hybrid Video™ has allowed the use of cost-effective analogue cameras at the school, rather than more expensive and comparatively poor performing IP alternatives. In the equipment room, high-quality NVT analogue camera signals are distributed to an on-site digital video recorder (DVR), supplying the best possible quality of recorded image for investigative/evidential purposes. However, both live and recorded camera footage is also encoded (via a separate encoder) for off-site network distribution, enabling a useful remote monitoring option for authorised users.
"We have used NVT technology over a wide variety of sites for many years and consider it our preferred choice of transmission method,"
says Peter Pumford, Business Development Manager for Spectre UK.
"At Redhill, we were keen to reduce cable weight and provide a smooth and condensed installation procedure. Due to its smaller diameter, installing Cat5 UTP infrastructure is much less time consuming than an equivalent coax or fibre one, and less expensive - but when used with NVT products, it can still provide fibre-like image quality to the control and recording equipment. Additionally, if we cannot avoid routing cables near adjacent electrical infrastructure (within the school's cable ducting), NVT UTP transmission always ensures no interference to picture quality, due to its excellent inherent interference rejection capabilities."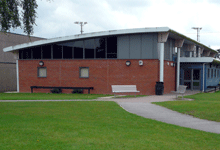 Utilising NVT Hybrid Video transmission provides the best of both analogue CCTV and digital video solutions
"Thanks to our skilled engineers, the user friendly nature of Cat5 UTP cable, and NVT products' simple installation and set-up, we were able to complete the system around the school's working hours, often during weekends, holidays and evenings. This ensured no disruption to the school's daily routine and the students' learning activity."

System success
Now enjoying comprehensive high-resolution live and recorded CCTV imagery from around the Redhill school site, Marcus Robinson explains the benefits to the school's environment:
"In addition to the security aspects, instantly accessible electronic surveillance imagery provides a great site management tool. Being able to patrol the site virtually via the CCTV system affords a level of visual verification around the school that previously I would have had to perform a physical tour to achieve. I can now spend my time much more economically and efficiently within my day. It also means that if we need to provide access to the clubs that regularly use the school's facilities out of hours, we can visually identify members and remotely release doors automatically, to let them in, again, streamlining our operation and maximising our resources."


Thanks to a successful installation from Spectre UK, the inherent expandability of NVT technology, and the success of the new cameras, the school is considering expanding the system to include additional camera points, covering the perimeter fence line and sports field facilities - ensuring the multiple benefits of the NVT Hybrid Video™ based installation are extended to cover all parts of the Redhill School site.
Download PDF version