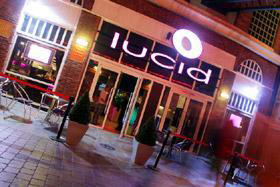 The Challenge
The latest newcomer to Manchester's renowned clubbing scene has installed a networked digital CCTV system to offer both top-of-the-range security coverage and live networked images of clubbers across the venue's three entertainment levels.
Lucid, a prestigious city centre nightclub and host to celebrity clientele including Westlife and Naomi Campbell, brings a unique 24/7 entertainment concept to Manchester and is backed by Richard Branson. Based in the Printworks entertainment complex, it is the largest nightclub in Manchester.
Stoke-on-Trent based system designers Security Design Services have installed two networked DS2 digital multiplex recorders from Dedicated Micros to allow the club to record and display images from across the venue on a number of massive 20ft by 12ft plasma screens.

The club management had very specific requirements of the security system. Mike Pye of Security Design Services explains: "With such an upmarket clientele, top quality but discreet security is obviously a major requirement. But they also wanted to use the live camera images as an integral part of the on-site entertainment, with networked images of clubbers being relayed to 12 different plasma screens in different parts of the venue."
The Solution
Two Dedicated Micros DS2 16-way digital multiplex recorders capture images from 31 cameras located over key entry and exit points, bar areas, dancefloors and lifts. Crowd control cameras over the main entrance are networked - an alarm image will automatically appear on the screen in the DJ booth to alert him to any potential incidents, while doormen and security stewards can also view images from inside the club and around the DJ booth.

Claimed to be the first of its kind in the UK, Lucid features 24/7 entertainment with restaurants and caf' bars as well as club events. The club also features two prestigious 'sky-boxes', elevated private party rooms directly overlooking the main dance floor which corporates or VIPs can hire for 5,000 a night.

Lucid General Manager, Paul McMichael commented: 'Security for our clientele is a number one priority at Lucid, which is why we've invested in the latest digital CCTV capability. As well as being remarkably simple to run, the system also offers us top quality images which we can use to keep any potential troublemakers away to maintain the exclusive and safe environment which our customers rightly expect.'

Continuous digital images are recorded for up to 31 days on the DS2 internal 320GB hard disks and archived onto a CD writer for evidential purposes. They can also be saved to PC or printed out on site.

All hard disk recording has a digital signature applied and is accessible at the touch of a button via powerful GoTo and event preview facilities.

Direct telemetry control via the ergonomically designed keyboard and multi-directional joystick provides a zoom in/zoom out facility for swift, seamless control of 24 Sony internal colour domes and two high-resolution external domes.

Future plans include live camera link-ups with other Lucid clubs currently under construction across the UK.

Download PDF version