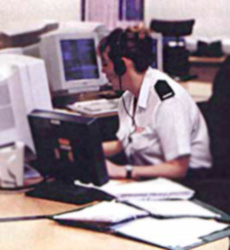 The Challenge
A major university campus in London has invested in a significant overhaul of its security, centred around digital multiplexing technology from Dedicated Micros. The university has seven city centre sites spread over almost three miles. A growth in drug related crime in the nearby Kings Cross area prompted the university to reconsider its security arrangements in conjunction with IDS, specialists in digital CCTV technology.
The Solution
IDS considered a number of potential solutions before suggesting the Digital Sprite multiplexer from Dedicated Micros. Michael Pye from IDS explains: "The university had originally specified a much more expensive digital system, but we advised against it. We were aware of the complicated operating procedures it demanded and thought it unnecessarily expensive for the university's needs. "Instead we recommended DM's Digital Sprite, without doubt one of the most user-friendly digital options on the market at the moment. As well as being straightforward and quick for us to set up, it is also exceptionally easy to use for the university's security staff, and can be fully networked in conjunction with existing security cameras - without the need for major capital investment." Pauline Norstrom, Marketing Communications Manager at Dedicated Micros commented: "In a market where time is increasingly money, we've focused on keeping Digital Sprite intuitively easy to use, keeping installation and training investment to an absolute minimum."
Locations covered by the new security umbrella include halls of residence, lecture theatres and the marking centre for all of London's colleges. IDS have installed 20 colour dome cameras at external locations of strategic importance, including car parks, main roads, and the entrances to buildings. Supervision of security arrangements is centred at an operational nerve-centre in the heart of London's W1 district. The university employs a specialist security company to provide 24/7 monitoring. The control centre has been equipped with ten Digital Sprite multiplexers, each controlling two cameras, together with an external archiving drive, a high specification printer, and a spot VHS recorder. Images are stored on an integral hard drive with storage capacity for up to 31 days of coverage. There is also an option to externally archive material onto disk.

This allows operators to produce almost instantaneous hard copies, and transfer digital images onto standard VHS cassette tapes for potential police use. It also ensures that the whole system complies with the Data Protection Act, as it allows the centre to supply a member of the general public with a VHS tape of footage of them captured on CCTV, if requested. The system enables the police or university management to log on to view either live or recorded footage remotely. Snapshots of images can also be saved as j-pegs to the hard drive and emailed as an attachment. A stand-alone PC allows access to all live and recorded material captured by the cameras, without interfering with the remainder of the system. The Digital Sprites perform multiple functions simultaneously, allowing security staff to review a specific section of footage without disrupting a recording and potentially missing crucial evidence. Digital Sprite's integral networking capability has allowed the university to extend the coverage of the system to include all of the internal cameras already installed inside the university buildings - without having to invest in expensive and time-consuming re-cabling. Michael Pye explains: "Typically, integrating an existing set of cameras into a new network would prove to be extremely expensive. The job would require extensive rewiring to link up each camera individually to the multiplexer. Instead, we have been able to connect all the cameras to the central control room with a single cable which simply plugs directly into the back of the Digital Sprite." A spokesperson from the university commented: "We are acutely aware of our duty to help provide a safe environment within which our students can live and study. As winter approaches and the nights begin to draw in, the new system is proving invaluable in providing secure residential areas, and also safe lecture and seminar venues."
Download PDF version