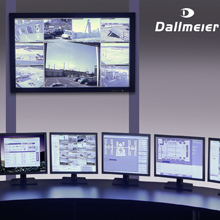 High-definition IP cameras from Dallmeier are an ideal complement to Schille's management system
Schille Informationssysteme GmbH is one of the leading companies in the field of manufacturer independent building management, security control technology and digital video systems. The company views itself primarily as a software developer who also consults customers on using its software solutions. High-definition IP cameras from Dallmeier are an ideal complement to Schille's building and security management software. Owing to their Cam inPIX Image Processing technology they always provide true-colour and highly detailed images in any surveillance situation.

For many years, Dallmeier IP cameras have been integrated with the Schille management system using an ActiveX interface. Now it is also possible to integrate them via ONVIF. Thereby the full range of camera functions is available through the Schille management system, including configuration, display of live images and control of PTZ cameras.

Dieter Dallmeier points out his company's strategy: "We have always been emphasising the topic of open interfaces and the possibilities to integrate our products into third-party systems. Therefore, we offer installers as well as customers a high level of flexibility and choice for putting together their optimal solutions. With the advancing development and implementation of the ONVIF standard the integration possibilities have become more comprehensive and easier to realise."

Frank Marcus Schille, managing director of Schille, adds: "There are other integration tools besides the ONVIF interface. The integration of audio is particularly interesting. It allows us to process the high-quality MPEG-Audio format, which is not yet supported by ONVIF."
Download PDF version