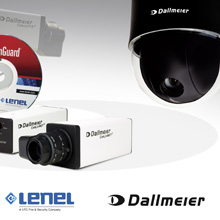 Dallmeier cameras have completed required factory testing at Lenel
Dallmeier IP cameras have received the Lenel factory certification for their interface to the OnGuard access control system. Tested products include both box (DF3000IP), dome (DDF3000IPV) and PTZ cameras (DDZ30xxIP DOMERA) as well as the MicroStreamer.
"
Dallmeier has completed required factory testing at Lenel to validate the functionality of its integration to OnGuard. We look forward to their continued involvement in the Lenel OpenAccess Alliance Program,
" said Gidon Lissai, Director of Strategic Alliances for Lenel.
The Dallmeier IP cameras stand out due to their excellent picture quality. They are equipped with the proven Cam_inPIX
technology an image processing technology developed by Dallmeier, whereby the picture information of every single pixel is digitally converted at the point of capture and is processed in the most optimal way.
Therefore, even situations with difficult lighting conditions can be recorded with picture quality previously unseen. Convenient factory settings combined with extremely, user-friendly menu controls enable easy, quick and economical installation of the cameras in any surveillance situation. The MicroStreamer easily integrates analogue cameras into video-network systems.
IP cameras from Dallmeier are used in a variety of projects around the world.
The applications range from small systems with only a few surveillance cameras up to large-scale projects with several thousands of camera channels. Whether for industrial, banks, casinos, airports, petrol stations, retail, city surveillance or other applications, Dallmeier offers customised solutions for every security concept.
Download PDF version