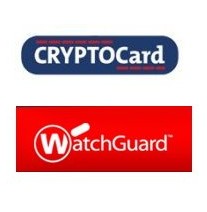 CRYPTOCard's authentication service, CRYPTO-MAS to be marketed through WatchGuard
CRYPTOCard, the leading developer of two-factor authentication and WatchGuard Technologies, the global provider of network access and security devices, today announced a joint marketing relationship which will result in the two companies collaborating on key customer projects designed to help promote best-in-class remote access security.
In leveraging the extensive knowledge of each other's technologies, the agreement between CRYPTOCard and WatchGuard will enable end-user organisations to achieve significant benefits over alternative offerings that utilise less secure methods for implementing and securing SSL/VPNs. The joint marketing relationship will initially be launched through key WatchGuard distribution partners across Europe immediately, with the company's North American channel to follow.
"SSL/VPNs are increasing in popularity, as more companies look to remote working and flexible working patterns to improve employee effectiveness and reduce carbon footprints," confirms Neil Hollister, CEO, CRYPTOCard Europe. "However, although inherently secure, SSL/VPNs still suffer from the same access control issues as most IT infrastructures - in that static passwords are the weakest link.
"Almost every organisation I have visited over the past decade, including many Fortune 100 companies, has had a high percentage of accounts with easily-cracked passwords," says Hollister. "The truth is that the increasing sophistication of hackers who infiltrate company networks has far outstripped any parallel advances in system security."
The joint marketing relationship will initially be launched through key WatchGuard distribution partners across Europe
Enhanced compliance
In response, as well as improving access security for remote workers the joint product offering increases user satisfaction and productivity by removing the need to remember, input or manage password changes. "WatchGuard meets the industry's most stringent security standards and helps companies around the world secure their access networks," says Mark Romano, Director of Global Channels at WatchGuard Technologies Inc. "Authenticating the user is an essential ingredient in many of the audit and regulatory compliance requirements such as the global PCI-dss, HIPAA and SOX standards and local Government-driven regulations such as Code of Connection and BECTA in the UK.
"By incorporating two-factor authentication plugs as a core part of their offering, our resellers ensure the security gap caused by static passwords for user authentication is closed," he adds.
Download PDF version
Download PDF version