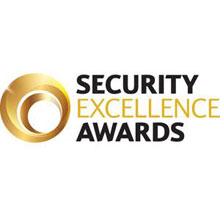 Award categories include Cyber Security Solution of the Year and Security Manager of the Year

Security Excellence Awards, organised by UBM Live, is pleased to announce the finalists for 2013. The industry's most prestigious ceremony will once again present the worthy winners with their awards at the Hilton Hotel, Park Lane on 23rd October.
Carefully drawn up from the extensive number of entrants across the security industry, the finalists have been announced for the following categories:
Brian Sims, Chairman of the Judges and media solutions manager for UBM Live's Security and Fire Portfolio, commented: "Every year it's extremely inspiring to learn of the magnificent achievements realised by security professional's right across the sector. It's the dedication of everyone in this community that helps to ensure so many companies' people and assets are safe and secure. Leading the Security Excellence Awards Judging Panel is a role I enjoy tremendously, and I'm very much looking forward to celebrating the industry's finest success stories at the Ceremony in October."
Judges comprised of leading names from the security industry, including: Alex Carmichael (technical director at the British Security Industry Association), Emma Shaw (Chairman of the Security Institute), Don Randall MBE (head of security, Bank of England and chairman, City of London Crime Prevention Association), Jeff Little OBE (CEO of the National Security Inspectorate) and Richard Childs (Managing Director, ACPO Crime Prevention Initiatives).
Book tickets to the most prominent security event in the calendar and join the more than 1,000 of the industry's foremost professionals to celebrate the outstanding achievements.
Download PDF version