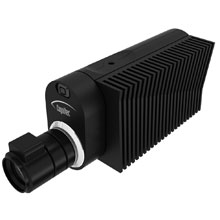 The camera provides optimal image quality for real-time face recognition even under challenging conditions
Cognitec now offers a highly specialised IP video camera with built-in face detection and tracking technology as a component of its FaceVACS-VideoScan product. The FaceVACS-VideoScan C5 camera provides optimal image quality for real-time face recognition, even under challenging conditions, while requiring low computing hardware and bandwidth resources.
Currently, users of high-resolution machine vision cameras require constant high bandwidth to receive uncompressed face images for optimal recognition performance. This scenario requires a dedicated network connection between camera and software. Typical surveillance cameras with moderate bandwidth requirements produce compressed images, leading to decreased biometric performance of the face recognition software.
High image quality & moderate bandwidth
FaceVACS-VideoScan C5 combines advantages of the options above: the high image quality of machine vision cameras and moderate bandwidth requirements of surveillance cameras.
The camera performs real-time, gapless face detection/tracking and generates lossless, cropped video streams for all faces appearing in front of the camera. An integrated camera control provides optimised exposure on the face area. FaceVACS-VideoScan C5 supports RTSP/H.264 video streams for integration with digital video recording systems.
Optimal integration
The camera delivers optimal integration with Cognitec's product FaceVACS-VideoScan, enabling the technology to detect and identify persons of interest in real time and with great accuracy. In addition, anonymous facial analysis over time allows the software to compute people count, demographical information, people movement in time and space, and to detect frequent visitors and crowds.
Cognitec is showing the camera in action at booth 11127 at ISC West in Las Vegas, USA, April 15–17, and at the Counter Terror Expo in London, UK, April 21–22, at booth H61.
Download PDF version