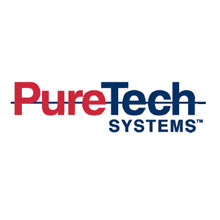 PureActiv wide area video surveillance system has 100 visible light and infrared illuminated CCTV cameras
PureTech Systems Inc.,a leading manufacturer of wide-area intelligent video surveillance software, announced the completed installation of its PureActiv wide area video surveillance system at the Port of Charleston's Wando Welch Terminal. The Port of Charleston operates five deep water marine terminals and regularly handles 8400-TEU vessels. The system installation, performed by I-Sys Corporation, provides complete perimeter security coverage, including water and land side regions.

The fully integrated system utilises over 100 visible light and infrared illuminated CCTV cameras and includes integration with the port's Lenel access control system and Southwest Microwave fence sensor system.

The installation highlights PureTech's market-leading intelligent video analytic capabilities, providing both intruder detection and subsequent autonomous tracking on multiple pan-tilt-zoom cameras. "We selected the PureActiv system for its ability to provide intelligent video analytics, geospatial command and control, autonomous PTZ tracking and its open architecture which easily integrates with other perimeter systems and sensors," stated Jeff Brown Security Programme Manager for the South Carolina State Ports Authority. The deployed system includes PureActiv's geographic map based command and control which provides the ability to quickly locate and react to potential intrusions across the port's vast property. The system was also selected for its ability to cope with the wide diversity of environments present at the port including busy water-side cargo loading areas, long fence lines, busy roadways and controlled entries and exits.

"When selecting a perimeter intrusion system, our customers have to consider requirements to detect intrusions along a lengthy perimeter while minimising cost. For this installation, PureTech's ability to identify targets at long ranges helped minimise the number of cameras required. Additionally, the PureActiv system is able to make use of standard security cameras, which further reduced cost and gave the Port installation flexibility without compromising detection standards," explains Eric Olson, Director of Product Management for PureTech Systems. The deployment marks the completion of the first phase in the Port's multi-facility roll out, which is under way.
Download PDF version
Download PDF version