About Dundee

Dundee City is Scotland's fourth largest city with a population of 140,000. Set by the River Tay on one of Europe's most impressive geographic locations, it boasts a revitalised city centre and retail scene, and includes a range of attractions including the thriving Dundee Contemporary Arts centre and the impressive Ice Arena. Massive advances in medicine and the development of electronic entertainment are achievements of a city and people famed for their innovation and invention.

About Alvarion's partner Aerelink

Aerelink specialises in building full turnkey wireless broadband networks for both the public and private sectors as well as the telecommunications industry.

In 2009 Aerelink was presented with a Queen's Award for Enterprise, the most prestigious business award in the UK. The company was recognised for continuous innovation in the design and delivery of bespoke wireless solutions and provision of high calibre engineering services.

The challenge

Dundee City Council needed to provide 41 primary and 10 secondary schools with 2 Mbps broadband connectivity per school and wanted to leverage the same network to provide wireless broadband to other government buildings and agencies. Using existing leased lines, which provides limited speeds, or acquiring new leased lines exceeded the council's budgetary constraints.

Dundee City Council's decision to provide broadband to schools, libraries, leisure centres and municipal buildings was to enhance public services and education, and save money. All across the UK, many local councils are replacing leased wired lines with wireless broadband because it is more cost-effective, offers higher speeds and enables self-ownership of network infrastructure.

The solution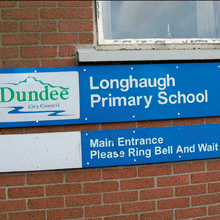 Alvarion's solution provides high speed connectivity to each and every school and reduced costs by up to 50%
Following a successful trial, the council appointed Aerelink to replace the existing leased lines and deploy a wireless broadband network using Alvarion's BreezeACCESS VL. Eleven Alvarion BreezeACCESS VL base stations are located on council buildings throughout the city, transmitting to and from 81 CPEs in libraries, sports centres, government offices and council facilities. In addition, six BreezeNET B14 point-to-point links in the 5.4 GHz spectrum provide additional capacity using both the 5.8 and 5.4 GHz bands. This solution not only provides the same high speed connectivity to each and every school but reduced costs by up to 50% compared to the alternative wired solution. The network also offers the council the flexibility to transfer or move connectivity when schools temporarily relocate or undergo renovations.

The result

Within a year, all 51 schools enjoyed broadband access using the BreezeACCESS VL 5.8 GHz spectrum network. With minimal additional costs, the same network also serves to connect a multitude of government buildings.

The network is gradually being expanded on a regular basis, as leased lines are replaced when contracts expire and the council is considering the addition of other applications, such as CCTV and traffic management. Significant network cost savings and a major leap in bandwidth capacity have made wireless the preferred solution for any new network connection required within the jurisdiction of the Dundee City Council.
Download PDF version